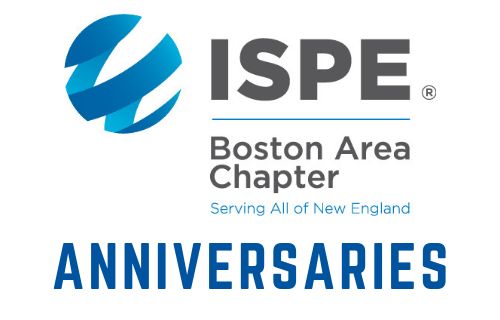 Posted by ISPE Boston
On July 8, 2019
Please congratulate the following members celebrating milestone anniversaries in June 2019.  Their dedication to ISPE, the Boston Area Chapter and the industry is applauded!
Over Twenty Years
Timothy J. Horgan, Alnylam Pharmaceuticals
James F. McAllister, Alnylam Pharmaceuticals
Richard G. Kotosky, PE, CPIP, Exyte U.S., Inc.
James F. Miller, Jr., CRB
Stephen P. Rossmeisl, DPS Group
David L. Hyde, CBA, CPIP, Lantheus Medical Imaging, Inc.
Fifteen Years
Todd W. Buck, PE, SNC-Lavalin Project Services, Inc
Michael Costello
David R. Edwards, AIA, The S/L/A/M Collaborative
Keyur Doshi, Ipsen Bioscience Inc
Ten Years
Paul D. Sullivan, RW Sullivan Engineering
Peter F. Burke
David J. Stack, Parker Hannifin
Five Years
John Diep, CRB
 Gerard R. Archambault, Jr., Process and Water
Randy Furmanick, Applewood Controls
Melody J. Hebert, Takeda Pharmaceuticals