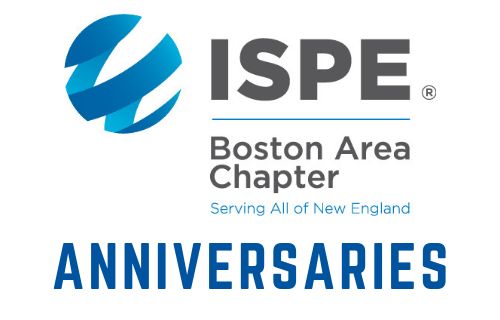 Posted by ISPE Boston
On January 8, 2018
Please congratulate the following members celebrating milestone anniversaries in December 2017.  Their dedication to ISPE, the Boston Area Chapter and the industry is applauded!
Over Twenty Years
Michelle D. Bailey, Vertex Pharmaceuticals
Judith R. Bodette, Sanofi Pasteur Biologics
Jack G. Campion, P.E., The Hart Companies
George A. Dainis, P.E., Industrial Facilities Design, Inc.
Amy Foley, The Richmond Group Inc
David Gouveia, BMS- Devens Ma
William J. Grabowski, HealthStar, Inc.
Frank J. Kuszpa, Jr., BSME, MSME, MBA,
Lynda S. Miller, Lonza Biologics
David A. Rielly, CEM, LEED GA, ISS Facility Services – DK-2400 Copenhagen
William Sayles, Shawmut Design & Construction
James L. Whalen, Watson-Marlow Fluid Technology Group
Fifteen Years
Richard J. MacLean, Biogen
Robert A. Piccirillo, Jacobs Engineering
Tulsa A. Scott, Commissioning Agents
Ten Years
Michael P. Bogan, Integrated Commissioning & Qualification LLC
Jo-Ann Coyne, GlaxoSmithKline
Kevin J. Shield, DECCO Inc
Five Years
Tiffany Hubanks, Knoll, Inc.
Jane F. Kepros, TRIA
Mark Levanites, Pfizer
Nestor Vazquez, Merck & Co Inc