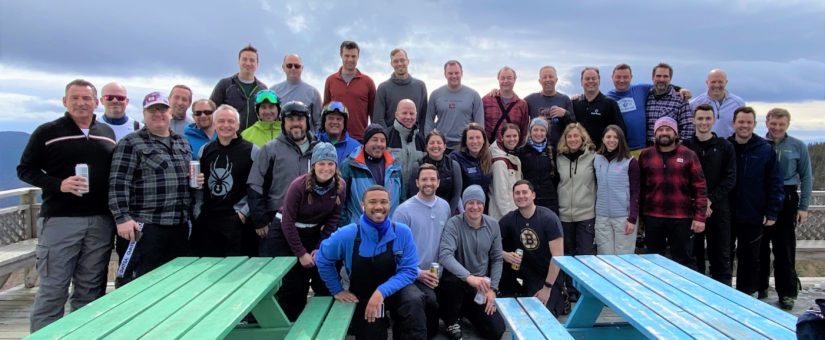 Posted by Skimeister Jim Grunwald
On March 9, 2020
On March 6th the ISPE Boston Area Chapter Social Committee hosted the 20th Annual Ski/Snowboard Outing. Record attendance of 145 attendees would have made things cozy on the bus, so a second bus was chartered to accommodate the huge response. A special thank you to all of our Sponsors for making this possible (two buses aren't cheap!) along with hosting the post ski banquet at Waterville Valley:
| | |
| --- | --- |
| A/Z Corporation | Reflex Lighting |
| Albireo Energy | RW Sullivan |
| Boston Analytical | Schneider Electric |
| BR+A | Sentrol |
| Commodore Builders | Superior Controls |
| DPS | TRIA |
| Hereva | Wise Contruction |
The day was a near perfect mix of great conditions, great food and, most importantly, great comradery. I was asked repeatedly throughout the day, "Why so many attendees this year?"  After much thought the answer could be one or more of the following:
It's an early Spring and the snow's a-melting.
The next wave of ISPE members made up more than half of the attendees – I think that means we've been discovered by the a new crop of folks. Cheers to that!
COVID 19 does not thrive above 2500' elevation (complete nonsense).
Friday always helps!
We have an amazing forum to connect our members and this event is just one example of why ISPE membership is so valuable. If you would like to keep the vibe going I highly recommend all of the Chapter's upcoming events, both fun and educational, especially the ever-popular Spring Golf Outing at Blue Hill Country Club on May 26th. To register for the Golf Outing, please click the following link:
https://www.ispeboston.org/events/?eventID=1063
Happy Spring to all!