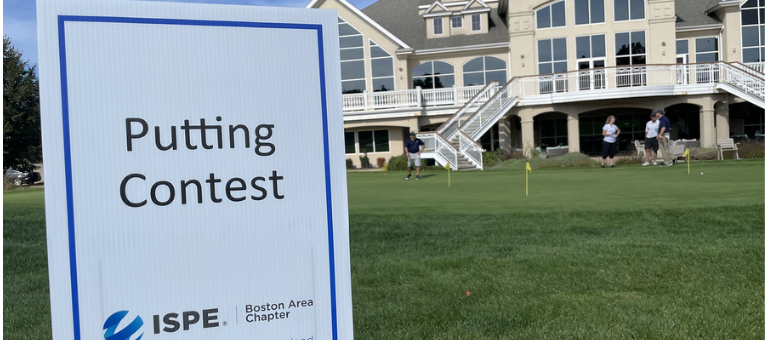 Beautiful Weather, Good Company, and Money Raised for a Great Cause
Posted by ISPE Boston
On October 21, 2021
Who could ask for more out of a Tuesday in October?!
The Fall Golf Tournament, held at Indian Pond County Club in Kingston, MA, kicked off at 11:00 am with beautiful 72-degree, blue sky weather.
The tournament was a huge success raising over $10,000 for the Chapter's Scholarship Foundation. Thank you to the participating companies who helped us reach this goal:
Boston Analytical
Exposure
RW Sullivan
BR+A
Fulcrum Associates
Sentrol Life Sciences
BW Kennedy
Gerflor
Sequence
Commodore Builders
ISPE Board of Directors
Superior Controls
Consigli Construction
Kinetics
Timberline Construction
CRB
MECO
TRIA
DC Beane
Northeast Engineering
WB Engineers + Consultants
DPS Group
Pare Corporation
Erland Construction, Inc.
Rovisys
Congratulations to the winning teams!
First Place:
Paul Sullivan, Mike Kelly, Theron Harpole, Mark Sullivan
Second Place:
Bryan Palmieri, Devin Gleeson, Mark Andolina, Jim Davis
Third Place:
Bill McCarthy, Aaron Bober, Devin Hersey, Dave Thompson
Contest Hole Winners:
Men's
Closest to the Pin: Dave Thompson
Longest Drive:  Nate Krocke
Straightest Drive:  Bryan Palmieri
Women's
Closest to the Pin: Annmarie Coyne
Longest Drive:  Erin Popa
Straightest Drive:  Kara Goodwin
A special thank you to our volunteers:
Dan Kenny, Jim Grunwald, and Shannon DeMello. Your time and efforts contributed greatly to the success of this event.