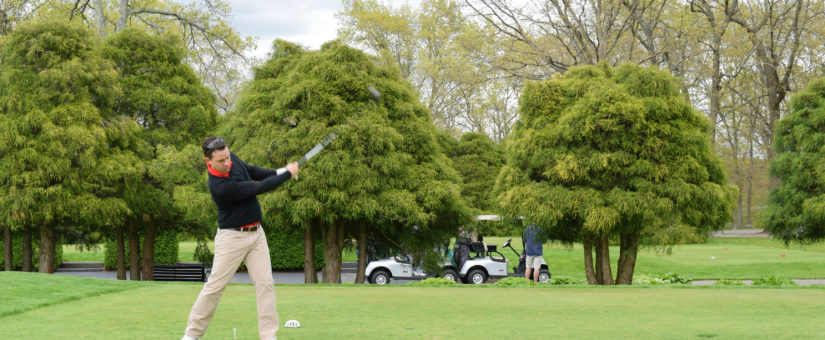 Breaking in the Spring with the Chapter's Golf Outing
Posted by Dan Kenny
On May 16, 2017
On May 8th, the ISPE Boston Area Chapter's Social Committee hosted the Annual Spring Golf Outing at Ledgemont Country Club in Seekonk, MA. With the event sold out, ISPE Chapter members and guests braved the blustering wind and enjoyed an invigorating day of golf. Although the sun was in and out all day, the rain held off and all had a great time. As always, the course was in amazing shape and the staff at Ledgemont Country Club provided exceptional service, making us feel comfortable and well taken care of.
The day started off with a full lunch spread and a shotgun start at 12:00 noon. The laughs and cheers could be heard all over the course throughout the day. As the groups came into the clubhouse after golfing, they were able to take some time to brag and laugh about the shots they made on the course. After all of the groups were in the clubhouse, they were treated to a delicious dinner spread with a carving station. Afterward, the awards were given out for the different hole contests and the first, second, and third place finishers as follows:
Winning Foursomes
1st Place: Erland Construction (Dennis Akin, Kurt Fatout, Dave Henderson, Gary Pasquale)
2nd Place: TRIA (Herbie Aikens, Connor Barnes, Sherwood Butler, Dan Paquette)
3rd Place: MPA Architects (Rick Fisher, Dan Madru, Harry Schofield, Dan Wall)
There were some great raffle prizes available as well as a 50/50 raffle with a donation of $465.00 to The Jimmy Fund (www.jimmyfund.org).
A special thanks to the staff at CAMI who worked so hard to make this event successful. Also, we are grateful to our sponsors, listed below, whose support is vital to the success of events such as the golf outing. Check out the photo slideshow below! We hope to see everyone at the Summer Social, which is scheduled for June 28th at the Squantum Yacht Club in Quincy, MA from 5:00-9:00 pm.
Spring Golf Outing Sponsors:
A/Z Corporation
Albireo
Azzur
Crosspoint Engineering Corp.
DPR Construction
DPS
Northeast Engineering
PM Group
Reflex Lighting
Siemens
Superior Controls
TRIA