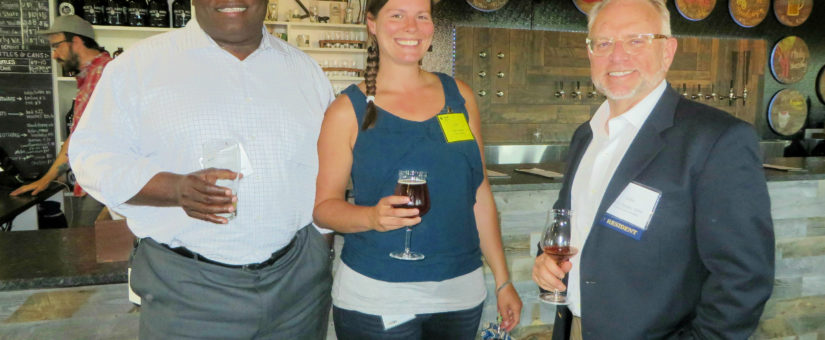 What Do Brewing, Brettanomyces and Biotech Have in Common?
Posted by Eric Felz
On June 19, 2017
The ISPE Boston Area Chapter kicked off the summer season with a standing-room-only event, "Brewing, Brettanomyces, and Biotech," at Springdale Barrel Room by Jack's Abby in Framingham.  This sold-out event was met with great anticipation and attendees did not leave disappointed.  The evening opened with a lively networking session with beer, food and great company.  Next, attendees toured the new facility, which opened in January, while learning about the brewing process. Even Jack Hendler, one of Jack's Abby's founders, took members out on tour.
Following the tours, attendees heard from two accomplished brewers: Kate Steblenko, a beer scientist from Jack's Abby; and Ronn Friedlander, cofounder and Chief Scientific Officer (CSO) of Aeronaut Brewing Company. Kate earned a BS in Biochemistry and Molecular Biology at UVM and Ronn holds a degree in Biomedical Engineering from Rutgers and a PhD in Medical Engineering and Medical Physics from MIT.  Both speakers were engaging and brought the material to life.
After the presentations, there was more time to relax and chat with peers. This event combined the best of both worlds: a great atmosphere for networking and material that was relevant to biotech – with a new twist.
The Chapter would like to thank our excellent speakers, our generous hosts at Jack's Abby and our event sponsor DPS. For more information about "Brewing, Brettanomyces and Biotech," follow the links below. And don't miss the photos!
For Kate Steblenko's presentation, "When Good Bugs Go Bad: Detection of Beer Spoiling Microorganisms in a Mixed Fermentation Environment," click here: https://www.ispeboston.org/files/ispe_june_14_presentation_-kate_steblenko.pdf
For Ronn Friedlander's presentation, "The Taming of the Brew," click here: https://www.ispeboston.org/files/ispe_june_14_presentation-_ronn_friedlander.pdf