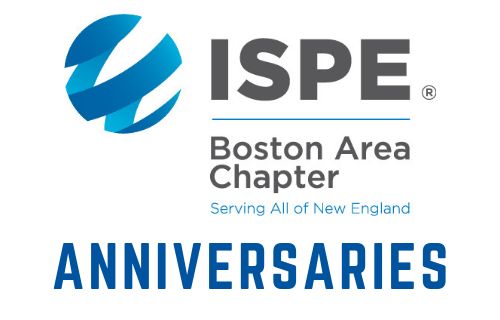 Posted by ISPE Boston
On May 7, 2018
Please congratulate the following members celebrating milestone anniversaries in April 2018.  Their dedication to ISPE, the Boston Area Chapter and the industry is applauded!
Over Twenty Years
James Araujo, Jr., Lonza Biologics Inc
James R. Berry, DPR Construction Inc.
Michael S. Cheney, Biogen Idec
Donald Cole, Hart Passivation Services, Inc.
Daniel D. Crosby, Bristol Myers Squibb
Raymond Foley, DPS Engineering
Paul F. Herbert, Alkermes Inc
Georgia Keresty, MBA, PhD, MPH, Takeda Pharmaceuticals Inc.
Dr. Richard V. Levy, PhD, PDA
James P. Mirisola, Oliver M Dean Inc
Robert S. Mitchell, CPIP, Robert Mitchell Engineering PC
David H. Novak, OSDV Engineers, Inc.
Thomas C. Ransohoff, BioProcess Technical Consultants Inc
Alexander E. Smith, Jr., retired
Twenty Years
Maryellen Brown, Pall Life Sciences
James P. Grunwald, DPS Group
Baha Korkmaz, MsC, PMP, Enterprise System Partners
Kurt M. Wirth, Barry-Wehmiller Design Group
Fifteen Years
Gregg A. Conboy, Erland Construction Inc
Stephanie L. Gaulding, DPS Group
Laura J. Masiello, Masy Systems Inc
Jared A. Potteiger, Shire
Ten Years
Patrick R. Furcolo, Pfizer Inc
Dr. Jeffrey A. Kaster, Shire Human Genetic Therapies
Stephen Lisko, CrossPoint Engineering
Victor A. Taubinger, CPIP, Shire Pharmaceuticals
Paul T. Tsang, Jacobs Engineering Group
Dr. Andrei A. Zlota, Mass College of Pharmacy
Five Years
Michael A. Dunn, Genzyme
Crystal Y. Thomas, Sanofi Genzyme
Peter Trearchis, Pfizer