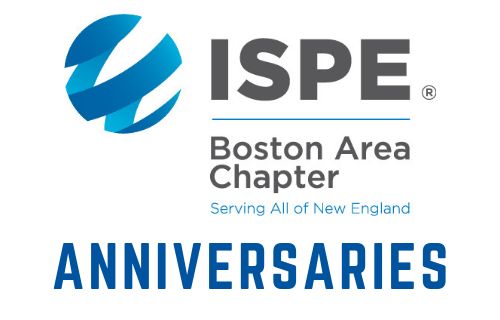 Chapter Member Anniversaries: April 2021
Posted by ISPE Boston
On April 5, 2021
Please congratulate the following members celebrating milestone anniversaries in April 2021.  Their dedication to ISPE, the Boston Area Chapter and the industry is applauded!
Over Twenty Years
Michael S. Cheney, Biogen Idec
Donald Cole, Hart Passivation Services, Inc.
Daniel D. Crosby, Bristol Myers Squibb
James P. Grunwald, DPS Group
Paul F. Herbert, Elektrofi Inc
Donna L. Kessel, Sanofi
Baha Korkmaz, MsC, PMP
Thomas H. Lauzon, Ultragenyx Pharmaceutical Inc
Robert S. Mitchell, CPIP, Robert Mitchell Engineering PC
David H. Novak, IPS-Integrated Project Services, LLC
Thomas C. Ransohoff, BioProcess Technical Consultants Inc
Eric Schwartz, BS Chem Eng, BS Chem, DPS
Alexander E. Smith, Jr.
Twenty Years
John K. Sicurella, BS, Sanofi Genzyme
Fifteen Years
Dr. Edward V. Sargent, MPH, PhD, DABT, E V Sargent LLC
Darren Shaw, J.F. Shaw Co Inc
Agam K. Sheth, Mylan Technologies Inc
Michael J. Wojcik, MECO
Ten Years
Brian Feeney, Rubius Therapeutics
Darby J. Flaherty, Celldex Therapeutics Inc
William E. Gittler, BS MBA, Airgas Northeast Inc
Hector Guzman, Alkermes
Douglas J. Lantigua
Ben M. Potenza, EquipNet Inc
Five Years
Cassandra L. Abellard, AAS, BS, Food & Drug Administration
Jenny Nguyen, MilliporeSigma