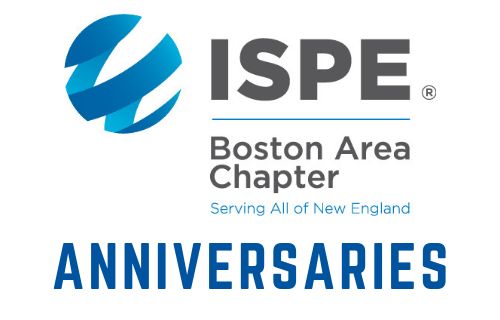 Posted by ISPE Boston
On September 5, 2018
Please congratulate the following members celebrating milestone anniversaries in August 2018.  Their dedication to ISPE, the Boston Area Chapter and the industry is applauded!
Over Twenty Years
Joseph M. Baumann, Sanofi Genzyme
Randolph A. Cotter, Sr., Cotter Brothers Corporation
John S. Gogolos, PE, Process Facilities Group, LLC
Pietro P. Perrone, PE, GE Healthcare – Marlborough, MA
Fifteen Years
Paul O'Sullivan, BlueBird Bio
Kent B. Pelissier, Colder Products Co
Morrill S. Reynolds, Genzyme Corp
Ten Years
Ryan Hart, ICQ Corp.
Randall Spayd, Lonza Biologics Inc
Five Years
Kristin E. Dangelo, Boston Analytical
Clint Fogg, ICO Energy & Engineering
George E. Howell, Massachusetts Maritime Academy
Ryan McGuigan, Structure Tone Inc.
Jon Meyer, Valsource
Charles J. Rownd, AIA, NCARB, Jacobs – Boston
Ryan J. Smith, ROTRONIC
Tina M. Smith, Astro Pak
Hayden S. Solomon, HETIRISK
Randall P. Westcott, Sanofi