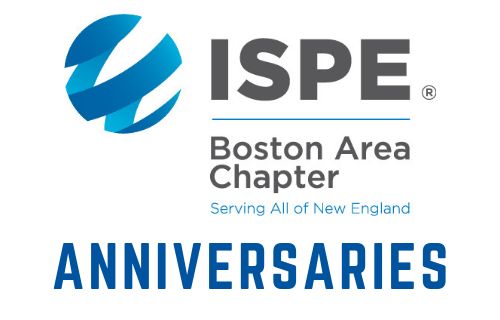 Posted by ISPE Boston
On September 4, 2019
Please congratulate the following members celebrating milestone anniversaries in August 2019. Their dedication to ISPE, the Boston Area Chapter and the industry is applauded!
Over Twenty Years
Joseph M. Baumann, Sanofi Genzyme
Randolph A. Cotter, Sr., Cotter Brothers Corporation
John S. Gogolos, PE, Process Facilities Group, LLC
Dr. Pietro P. Perrone, PE, GE Healthcare
Twenty Years
Gerard P. Creaner, GetReskilled, Inc.
John C. Kyranos, Alnylam Pharmaceuticals
Fifteen Years
Michael Calorossi, M.S., MannKind Corporation
Richard Morin, MilliporeSigma
Brian Pochini, CPIP, Sanofi
Thomas H. Spooner, Amgen Inc
Peter Vandergraaf, Q-Mation
Ten Years
John Hanly, Pfizer Inc
Erik W. Swanson
Five Years
Hemant D. Mehta, DPS Engineering
Donal C. Lyons, Structure Tone
Timothy King, BS, G. Greene Construction
Zvonko Ilic, ALV Consultants Inc.