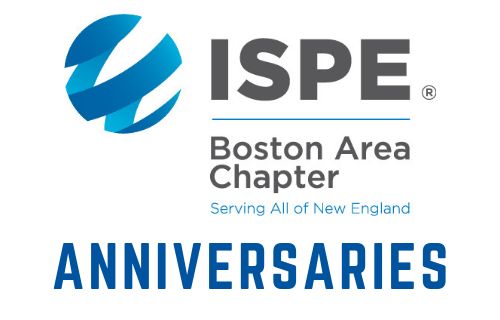 Chapter Member Anniversaries: August 2022
Posted by ISPE Boston
On August 5, 2022
Please congratulate the following members celebrating milestone anniversaries in August 2022.  Their dedication to ISPE, the Boston Area Chapter and the industry is applauded!
Over Twenty Years
Russell Bailey, Sage Engineering Associates
Patrick Chambers, AbbVie Bioresearch Center
Randolph Cotter, Cotter Brothers Corporation
Gerard Creaner, GetReskilled, Inc.
John Gogolos, Process Facilities Group, LLC
Michael Guyader, Takeda Pharmaceutical
Daniel Herzig
Robert Jewett, Terracon Corporation
John Kyranos, Alnylam Pharmaceuticals
Grace Lee, CRB
Pietro Perrone, Cytiva
Twenty Years
Robert Alden, Regeneron Pharmaceuticals Inc
Clive Smith, Setra
Stephen Sofen, Sofen Consulting LLC
David Susco, Novo Nordisk
Fifteen Years
Theodore Bradley, Pfizer Inc.
Roger Nosal, Pfizer Inc.

Ten Years
Carlene Barous, SQZ Biotechnologies
Robert Beall, ProPharma Group
Five Years
Adam Saltmarsh, Turner Construction Co
Ravi Samavedam, Azzur Group
Dwinal St. Peter, STEM Solutions, LLC
Gil Stevens, Ultragenyx
Kurt Svetaka, Trane – Boston