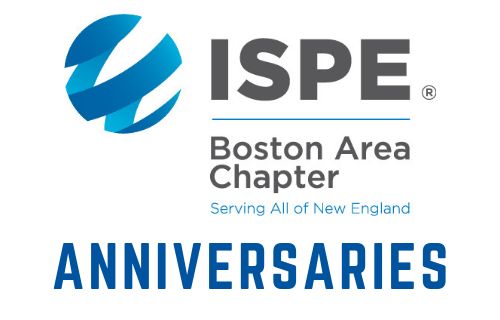 Posted by ISPE Boston
On January 7, 2019
Please congratulate the following members celebrating milestone anniversaries in December 2018.  Their dedication to ISPE, the Boston Area Chapter and the industry is applauded!
Over Twenty Years
Michelle D. Bailey, Vertex Pharmaceuticals
Judith R. Bodette, Sanofi Pasteur Biologics
Jack G. Campion, P.E., The Hart Companies
Carl J. Carlson, Exyte From M+W Group
George A. Dainis, P.E., Industrial Facilities Design, Inc.
David Gouveia, BMS
William J. Grabowski, HealthStar, Inc.
Frank J. Kuszpa, Jr., BSME, MSME, MBA
Lynda S. Miller, Lonza Biologics
David A. Rielly, CEM, LEED GA, ISS Facility Services
William Sayles, Columbia Construction
Brian Scalata, FCX Performance/ Clean Technologies
James L. Whalen, Watson-Marlow Fluid Technology Group
Twenty Years
Thomas R. Choyce, PE, Biogen
Andrew D. Faden, CPIP, PMP, MS, Hargrove Controls + Automation
Fifteen Years
Chris M. Pappathan, Shire
Guenko Guenev, G&G Technologies, Inc.
Sidney H. Goode, Rhodes Technologies
Frank Armstrong, Cotter Brothers Corporation
Five Years
Edward Szczesny, MS, Rhodes Pharmaceuticals