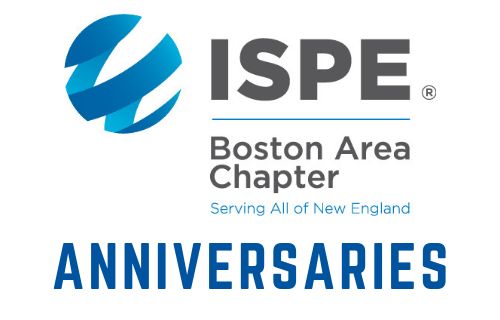 Chapter Member Anniversaries: December 2020
Posted by ISPE Boston
On December 7, 2020
Please congratulate the following members celebrating milestone anniversaries in December 2020.  Their dedication to ISPE, the Boston Area Chapter and the industry is applauded!
Over Twenty Years
Judith R. Bodette, DPS Group
Jack G. Campion, P.E., The Hart Companies
Carl J. Carlson, Exyte
George A. Dainis, P.E., Industrial Facilities Design, Inc.
Amy Foley, The Richmond Group Inc
William J. Grabowski, HealthStar, Inc.
Michael C. Harrison, CPIP, Biotechnicians Network Inc.
Frank J. Kuszpa, Jr., BSME, MSME, MBA
David A. Rielly, CEM, LEED GA, Takeda
William Sayles, Columbia Construction
Fifteen Years
Richard C. Albers, Flow Sciences Inc
Geoffrey A. Von Holten, GvH Consulting, Inc.
Ten Years
Beth Gardner, Bluebird Bio
Kristina Grundhoff, Takeda
Five Years
Sam Bessey, DPS Engineering
Joey Fababeir, PM Group Boston
Carlos Pascoal, DPS
Julia Zhou, Centrexion Corporation