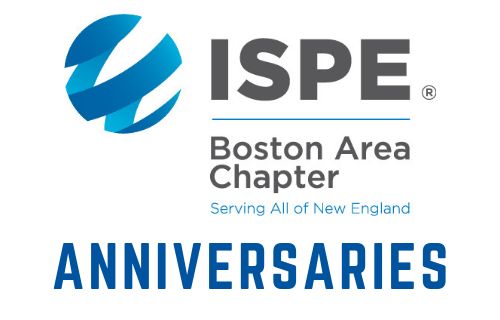 Posted by ISPE Boston
On March 5, 2018
Please congratulate the following members celebrating milestone anniversaries in February 2018.  Their dedication to ISPE, the Boston Area Chapter and the industry is applauded!
Over Twenty Years
John P. Alleruzzo
Kenneth A. Bradley, Pfizer Inc
Dr. Eric S. Good, ProPharma Group
Daniel J. Pratt, Takeda Oncology
Robert J. Sheehan
Peter K. Silverberg, Abec, Inc., Abec, Inc.
Peter D. Smith, PAREXEL Consulting
Michael G. Sprague, Ethide Laboratories
Terrence Stansfield, Alexion Pharmaceuticals
Twenty Years
Dr. Richard C. Moreton, FinnBrit Consulting
Fifteen Years
Dr. Howard W. Altmann
Joseph W. Hebert, Westboro Project Consultants, LLC
Robert P. Huddy, CPIP, Commissioning Agents
Richard W. Leger, Quantum Engineering, Inc.
Steven Pasternak, Shire
John Tiani, Biomet
Ten Years
Mead F. Lotz, Commissioning Agents, Inc
Eric L. Peterson, AMRI Inc
Frank Yeschanin, Jr., Lantheus Medical Imaging
Alan Yim, GE Healthcare
Five Years
Christopher R. Gould-Kelley, Architectural Environments, Inc.
Kang Wu, University of New Hampshire