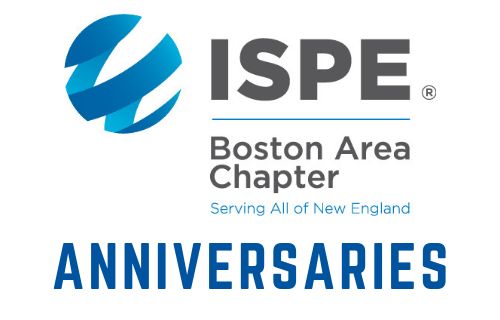 Posted by ISPE Boston
On February 5, 2020
Please congratulate the following members celebrating milestone anniversaries in February 2020.  Their dedication to ISPE, the Boston Area Chapter and the industry is applauded!
Over Twenty Years
John P. Alleruzzo,
Kenneth A. Bradley, Pfizer Inc
Dr. Eric S. Good, ProPharma Group
Dr. Richard C. Moreton, FinnBrit Consulting
Jeffery N. Odum, CPIP, Sanofi
Daniel J. Pratt, PE, Takeda Pharmaceutical International Co.
Scott Ripatrazone, Insco Group
Peter K. Silverberg, Abec, Inc.
Twenty Years
James M. Crotty, MSFM, Takeda
Matthew J. Kelly, BS, Takeda Pharmaceuticals International Co.
Gary A. Knight,
Michael D. Matton, New England Sales Inc
David M. Pfisterer, BChE, Pfizer Inc
Peter B. Young, P&IDC
Ten Years
Paul G. Doherty, CBRE
Five Years
Ashley A. Andrews, Brammer Bio
Schuyler Doten, Thermo Fisher Scientific