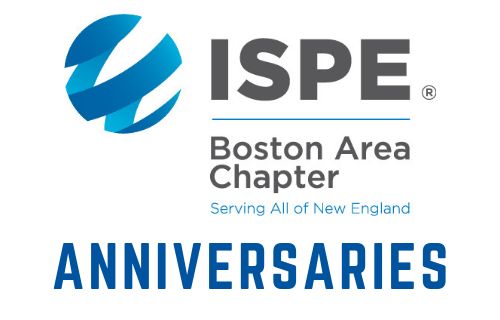 Chapter Member Anniversaries: February 2021
Posted by ISPE Boston
On February 8, 2021
Please congratulate the following members celebrating milestone anniversaries in February 2021.  Their dedication to ISPE, the Boston Area Chapter and the industry is applauded!
Over Twenty Years
John P. Alleruzzo,
Kenneth A. Bradley, Pfizer Inc
James M. Crotty, MSFM, Takeda
Dr. Eric S. Good, ProPharma Group
Michael D. Matton, New England Sales Inc
Dr. Richard C. Moreton, FinnBrit Consulting
Jeffery N. Odum, CPIP, Exyte
David M. Pfisterer, BChE, Pfizer Inc
Daniel J. Pratt, PE, Takeda Pharmaceutical International Co.
Peter K. Silverberg, Abec, Inc., Abec, Inc.
Twenty Years
Stephen P. Conti, Azzur Group LLC
David Kessler, EMCOR Betlem
Fifteen Years
Nick Andrews, CP Professional Services
Peter Canisius, Jr., AbbVie Bioresearch Center
William T. Mallonee, NMS Bio – A Repligen Company
Cory Siddons, Alnylam Pharmaceuticals
Ten Years
Ankit Mansukhlal Chovatia, Emergent BioSolutions
Raymond C. Terrell, Azzur Group LLC
Five Years
Brooks Doten, Northeastern University – College of Professional Studies
Swetha Krishnan, M.S., Alkermes
William Lichtman, Takeda Lexington MA
John F. Ryan, PMP, ProPharma Group