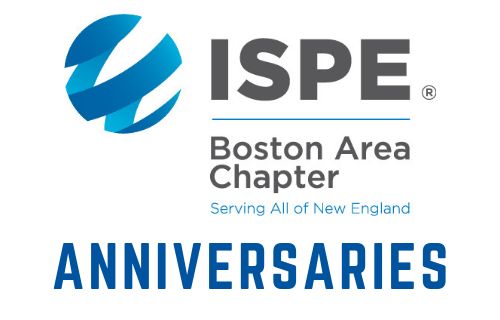 Chapter Member Anniversaries: January 2020
Posted by ISPE Boston
On January 3, 2020
Please congratulate the following members celebrating milestone anniversaries in January 2020.  Their dedication to ISPE, the Boston Area Chapter and the industry is applauded!
Over Twenty Years
Daniel E. Baxter, Vertex Pharmaceuticals Incorporated
Dr. Anthony C. Bevilacqua, Ph.D., Mettler-Toledo Thornton Inc
Erik M. Caldwell, Northeast Water Svcs, Inc.
Brian L. Clark, GMP Operations Consulting
Andrew A. Coull, J.M. Coull, Inc.
Daniel J. Dumont, Dynamic Systems Inc
Gary A. Hida, Applied Control Engineering Inc
Chris R. Mansur, Azzur Group, LLC.
Michael R. Pacek, PE, Stilmas Americas
James Dean Vogel, PE, The BioProcess Institute
Beth M. Wescott, PE, Pfizer
Twenty Years
Scott W. Anderson, EMD Millipore
Brian D. Charron, PE, Mylan Technologies Inc
Fifteen Years
Keith Sheldon, Hallam Associates Inc
Nathan Spillane, Takeda – Lexington
Ten Years
Christopher S. Corsetti, Elevate Bio Base Camp LLC
Karl Ginand, Timberline Construction Corporation
Dr. Michael K. O'Brien, PhD, NGT BioPharma Consultants
Five Years
Jessica A. Reilly, BS, Sartorius-Stedim Biotech
Vivek Puthezath, E-Volve Systems
Carla Oliva, Apellis Pharmaceuticals
Christopher Nesman, EMD Serono
John H. Leeds, III, DPS Engineering
Jeremy Lebowitz, PE, JENSEN HUGHES
Brian M. Glaude, Thermo Fisher Scientific
Sherri Carlson, IPS
Prakash R. Bhojani, Validation Technologies Inc.