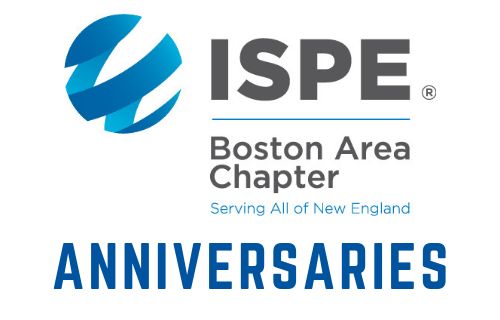 Chapter Member Anniversaries: January 2021
Posted by ISPE Boston
On January 6, 2021
Please congratulate the following members celebrating milestone anniversaries in January 2021.  Their dedication to ISPE, the Boston Area Chapter and the industry is applauded!
Over Twenty Years
Michael Anderson, FST Technical Services LLC
Daniel Baxter, Vertex Pharmaceuticals Incorporated
Dr. Anthony Bevilacqua, PhD, Mettler-Toledo Thornton Inc
Erik Caldwell, Northeast Water Svcs, Inc.
Brian Charron, PE, Mylan Technologies Inc
Brian Clark, GMP Operations Consulting
Michael Cooper, BioMarin Pharmaceutical Inc.
Andrew Coull, J.M. Coull, Inc.
Daniel Dumont, Dynamic Systems Inc
James Hanly
Gary Hida, Applied Control Engineering Inc
Chris Mansur, Azzur Group, LLC
Michael Pacek, PE, Stilmas Americas
Michael Severino, Festo Corp
James Vogel, PE, The BioProcess Institute
Twenty Years
Mario Miele, ElevateBio
Fifteen Years
David Berardinelli, A/Z Corporation
Dr. Alice Day, Acceleron Pharma
Matthew Dorf, Nora Rubber Flooring
Dr. Anil Rattan, PhD, Apellis Pharmaceuticals
Brian Seed, Massachusetts General Hospital
Ten Years
Phillip Carpenter, Takeda Pharmaceuticals International
Sal LaFauci, Integrated Power & Control Services, Inc.