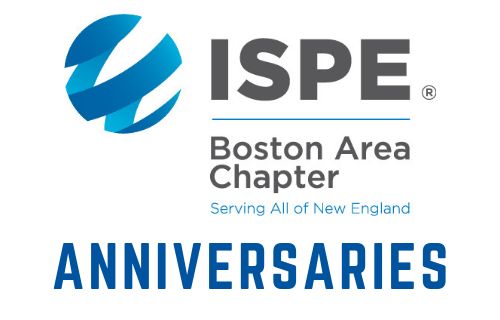 Chapter Member Anniversaries: January 2022
Posted by ISPE Boston
On January 4, 2022
Please congratulate the following members celebrating milestone anniversaries in January 2022.  Their dedication to ISPE, the Boston Area Chapter and the industry is applauded!
Over Twenty Years
Michael Anderson, FST Technical Services LLC
Mara Bartos, Sanofi Genzyme
Daniel Baxter, Vertex Pharmaceuticals Incorporated
Anthony Bevilacqua, Mettler-Toledo Thornton Inc
William Bohnaker, Abzena
Erik Caldwell, Northeast Water Svcs, Inc.
Brian Clark, GMP Operations Consulting
Michael Cooper, BioMarin Pharmaceutical Inc.
Andrew Coull, J.M. Coull, Inc.
Daniel Dumont, Dynamic Systems Inc
Gary Hida, Applied Control Engineering Inc
William Lynch, Dycem
Chris Mansur, Azzur Group, LLC.
Mario Miele, ElevateBio
James Vogel, The BioProcess Institute
Beth Wescott, Pfizer
Twenty Years
Frank Crisafulli, Sensitech, Inc.
Elissa Karol, Genzyme A Sanofi Company
Kevin Lynch, Millipore Sigma VGT
James McKee, Glatt Air Techniques
Gonzalo Milet, Solid BioSciences
Ivan Soto, Valgenesis Inc.
Fifteen Years
Andrew Donaldson, Nitto Denko Avecia Inc.
Stacy Petti Price, Ziopharm Oncology
Ten Years
Kyllan Alwyn, KILI Inc.
Five Years
Ryan Dessert, CBRE
Aaron Hubbell, Delta Project Management
Charles Landry, Vertex Pharmaceuticals
Christopher Shea, Kala Pharmaceuticals Inc.