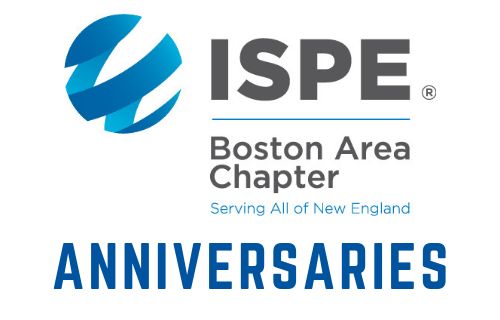 Chapter Member Anniversaries: January 2023
Posted by ISPE Boston
On January 3, 2023
Please congratulate the following members celebrating milestone anniversaries in January 2023.  Their dedication to ISPE, the Boston Area Chapter and the industry is applauded!
Over Twenty Years
Daniel Dumont, Dynamic Systems Inc
William Lynch, Dycem
James Vogel, The BioProcess Institute
Brian Clark, GMP Operations Consulting
Andrew Coull, J.M. Coull, Inc.
Michael Pacek, Stilmas Americas
Michael Anderson, FST Technical Services LLC
Anthony Bevilacqua, Mettler-Toledo Thornton Inc
Beth Wescott, Pfizer
William Bohnaker, Abzena
Erik Caldwell, Northeast Water Svcs, Inc.
Gary Hida, Applied Control Engineering Inc
Chris Mansur, Azzur Group, LLC.
Daniel Baxter, Vertex Pharmaceuticals Incorporated
Elissa Karol, Genzyme A Sanofi Company
Ivan Soto, Sarepta Theraputics
Frank Crisafulli, Casella Process Solutions
Twenty Years
Jonathan Briggs, Genocea Biosciences
Al Marquez, Marquez Process Service, Inc.
Fifteen Years
Sherwood Butler, Tria Inc
Michael Gatta, ICQ Consultants Corp
Ten Years
Justin Tousignant, Black Bear Coatings & Concrete
Brian Meldrum, Decco Inc
Nicholas Thomson, Pfizer Inc
Five Years
Matthew Gay, IvexSol, Inc.
Kimberly Campbell
Philip Pavlovich, Siena Construction Inc
Abraham Sachariah, DPS Engineering
Nathan Dulac, Moderna Therapeutics
Chris England, Exyte