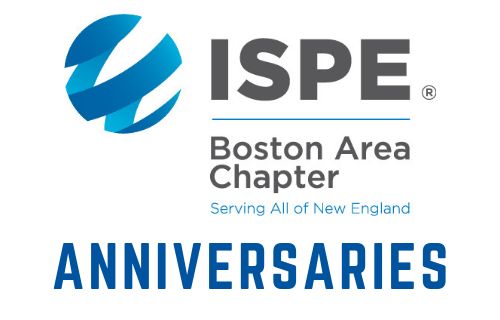 Posted by ISPE Boston
On August 5, 2019
Please congratulate the following members celebrating milestone anniversaries in July 2019.  Their dedication to ISPE, the Boston Area Chapter and the industry is applauded!
Over Twenty Years
Michael A. Arnold, RPh, Pfizer Global Clinical Supplies
Oliver W. Bausch, Bausch Advanced Tech.
Dr. James V. Blackwell, PhD, MBA, The Windshire Group, LLC
Richard V. Bodmer, Jr., Sanofi
Nicholas J. Casale, Novartis Pharmaceuticals
Patricia J. Charek, BW Kennedy & Co.
James Headden, PE, Siemens Healthineers
Shelly Henderson
H Steven Kennedy, PE
John C. Masiello, Masy BioServices
Daniel J. Mathien, Behringer Corporation
John M. Molaskey, ValSource, LLC
Jose Miguel Soto, Pfizer Inc
Fifteen Years
Edward I. Winnett, Validation Techologies Inc
Five Years
Joe Barry
Jeff Holmes, Sanofi Genzyme