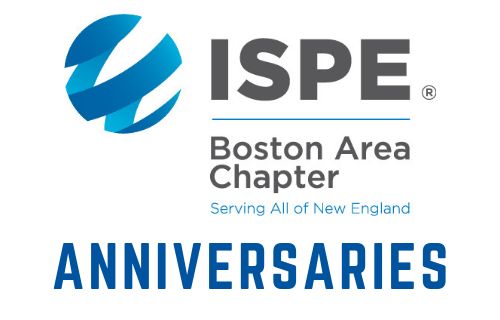 Chapter Member Anniversaries: July 2022
Posted by ISPE Boston
On July 5, 2022
Please congratulate the following members celebrating milestone anniversaries in July 2022.  Their dedication to ISPE, the Boston Area Chapter and the industry is applauded!
Over Twenty Years
Michael Arnold, Pfizer Global Clinical Supplies
Oliver Bausch, Bausch Advanced Tech.
James Blackwell, The Windshire Group, LLC
Patricia Charek, BW Kennedy & Co.
Christopher Gallagher, Design Group
Shelly Henderson
Troy LeBlanc, Takeda Pharmaceuticals Inc.
Orlando Lopez
John Masiello, Masy BioServices
Daniel Mathien, Behringer Corporation
Anthony Meenaghan, EMD Serono, Inc.
John Molaskey, ValSource, Inc.
Jose Soto, VIATRIS
Twenty Years
Stephen Campbell, CRC Consulting LLC
James LaBonty, Pfizer (Retired)
Paul Priebe, Qosina
Fifteen Years
Andy Matthiesen, American Red Cross
Marc St.Germain, Northeast Water Services Inc.

Ten Years
N/A
Five Years
Rohit Singhal, MDI Membrane Technologies, Inc.
Phillip Twombly, SMRT Inc