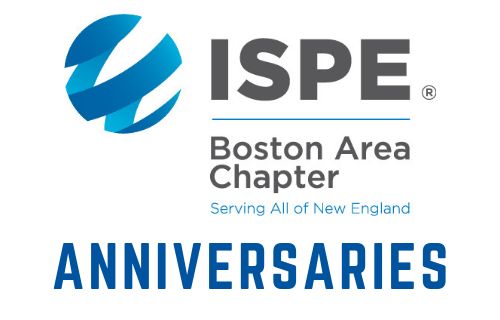 Posted by ISPE Boston
On June 8, 2020
Please congratulate the following members celebrating milestone anniversaries in June 2020.  Their dedication to ISPE, the Boston Area Chapter and the industry is applauded!
Over Twenty Years
Timothy Horgan, Alnylam Pharmaceuticals
David Hyde CBA, CPIP, Lantheus Medical Imaging, Inc.
Richard Kotosky PE, CPIP, Exyte U.S., Inc.
Jim Mcallister, Alnylam Pharmaceuticals
Twenty Years
Neil Bergeron, Lonza
Fifteen Years
Todd Buck PE, SNC-Lavalin Project Services, Inc
Michael Costello  
Keyur Doshi, Ipsen Bioscience Inc
David Edwards AIA, The S/L/A/M Collaborative
Ten Years
Emily Petrelis, Thermo Fisher Scientific (Brammer Bio)
Five Years
Kevin LaPlante P.E., Design Group
Derek Masser, Non-Metallic Solutions Inc
Glen Nonemaker BSME; PMP, Genzyme
Brijesh Patel, Lantheus Medical Imaging