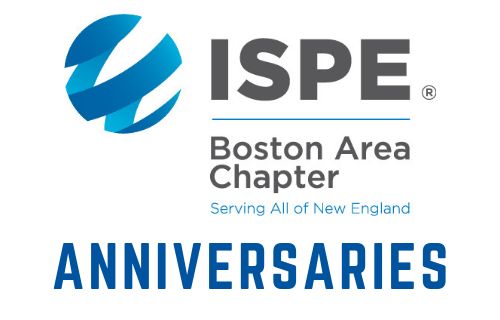 Chapter Member Anniversaries: June 2021
Posted by ISPE Boston
On June 4, 2021
Please congratulate the following members celebrating milestone anniversaries in June 2021.  Their dedication to ISPE, the Boston Area Chapter and the industry is applauded!
Over Twenty Years
Neil A. Bergeron, Lonza
Timothy J. Horgan, Alnylam Pharmaceuticals
David L. Hyde, CBA, CPIP, Lantheus Holdings, Inc.
Richard G. Kotosky, PE, CPIP
Jim F. Mcallister, PTSI
Stephen P. Rossmeisl, DPS Group
Twenty Years
Robert G. Cole, Hart Design Group
Aaron H. Jordan, Sanofi
Fifteen Years
Brian T. Johnson, Commodore Builders – Life Sciences Group
John P. Piganelli, Fristam Pumps USA
Carolyn Stockdale
Ten Years
Patrick J. Donahue, Blackthorn Associates, LLC
Gil Salzman, Genzyme
Five Years
Steve Bao, China USA GMP
Jeffrey Carter, PhD, Cytiva
Benjamin Crewdson, Exyte
Tavis Frankel, Arrowstreet Inc.
Jeremiah Genest, Vertex Pharmaceuticals
Ross Jordan, Northeast Electrical Distributors
Daniel Lanneville, Skanska USA Building Inc.
Neil Webster, DPS Engineering