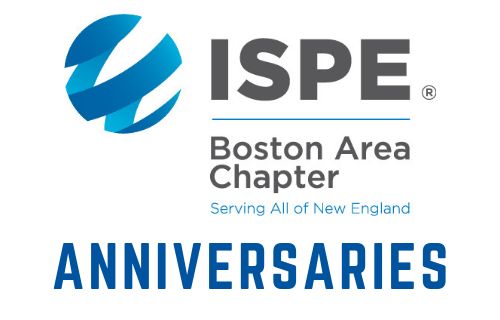 Posted by ISPE Boston
On March 5, 2020
Please congratulate the following members celebrating milestone anniversaries in March 2020.  Their dedication to ISPE, the Boston Area Chapter and the industry is applauded!
Over Twenty Years
Saboo Aghababayan, MS, MBA, Genzyme
Stig Bockman-Pedersen, CCQV Services
Ronald C. Case, Superior Controls, Inc.
Dr. Charles L. Cooney, PhD, MIT Chemical Engineering
Michael B. Cronin, ImmuCell Corporation
Robert C. Davis, Process Control Solutions
Michael F. Diker, Bristol-Myers Squibb
Ian S. Gosling, Cytronix Ltd
Brian M. Hagopian, CPIP, Clear Water Consulting, Inc.
David G. Harney, Microfluidics
Mitchell I. Hollander, Lantheus Medical Imaging
Stephen P. Kuzil, Novo Nordisk US Bio Production Inc.
Howard L. Levine, PhD, BioProcess Tech Consultants, Inc.
Joseph Musiak, Acorda Therapeutics, Inc.
Peter A. Petrillo, Millennium Facilities Resources Inc
Gregory M. Ruklic, Independent
George R. Skillin, WuXi Biologics
Robert P. Vecchione, BWT Pharma & Biotech
Andre L. Walker, CPIP, Walker BioPharm Consulting
Jack N. Wentz, Lantheus Medical Imaging
Jay F. Zaino, EMSBMS, LLC
Gary V. Zoccolante, BSME, Plymouth Rock Water Consultants
Twenty Years
Paul J. Adams, BS
Matthew J. Camelio, Thermo Fisher
Carolyn W. Lee-Parsons, Northeastern University
Lila F. Li, Shire
Christopher S. O'Reilly, Organogenesis Inc
Howard G. Sneider, CPIP, Avecia
John T. Zurheide, Jr., Genzyme
Fifteen Years
Theodore C. Donahue, Jr., Organogenesis Inc
Steven Lacerte, STV|DPM, Inc.
Andrew S. Mutz, Ezi-Dock Systems Ltd
Ten Years
Dana Alexander, Brammer Bio
Lee S. Donohue, Avecia
Dr. Juergen Hahn, Levitronix Technologies LLC
Terry J. Seanard, Jr., CPIP, New England Controls, Inc.
Andrew Ye, Boehringer Ingelheim Pharma
Five Years
Chirag Parikh, Takeda
Dr. Alagappan Annamalai, Pfizer
Virginia M. Bergman, Superior Controls, Inc.
Joseph Cassella, ProPharma Group
Eileen Heffernan, Boston Analytical
Andrea Isby, B.S., ChE, Commissioning Agents
Chris Ladd, AIA
Bradley Patrick Londot, Brammer Bio
Aislinn Mulligan, Massachusetts College of Pharmacy and Health Sciences