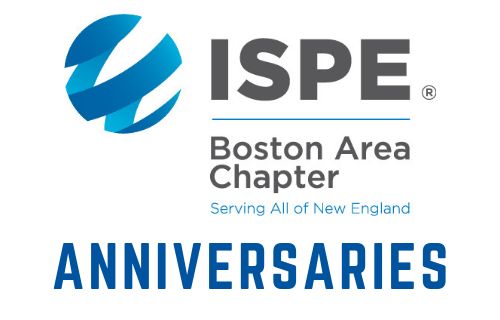 Chapter Member Anniversaries: March 2021
Posted by ISPE Boston
On March 4, 2021
Please congratulate the following members celebrating milestone anniversaries in March 2021.  Their dedication to ISPE, the Boston Area Chapter and the industry is applauded!
Over Twenty Years
Saboo Aghababayan, MS, MBA, Genzyme
Stig Bockman-Pedersen, CCQV Services
Matthew J. Camelio, Thermo Fisher
Ronald C. Case, RCC Associates
Dr. Charles L. Cooney, PhD, MIT Chemical Engineering
Robert C. Davis, Process Control Solutions
Michael F. Diker, Bristol-Myers Squibb
Brian M. Hagopian, CPIP, Clear Water Consulting, Inc.
David G. Harney, Microfluidics
Mitchell I. Hollander, Lantheus Medical Imaging
Stephen P. Kuzil, Novo Nordisk US Bio Production Inc.
Carolyn W. Lee-Parsons, Northeastern University
Howard L. Levine, PhD, BDO USA
Lila F. Li, Takeda
Joseph Musiak, Acorda Therapeutics, Inc.
Peter A. Petrillo, Millennium Facilities Resources Inc
John J. Rozembersky, Rozembersky Group Inc.
Gregory M. Ruklic, Independent
George R. Skillin, Spark Therapeutics, Inc.
Howard G. Sneider, CPIP, Avecia Biotechnology
Robert P. Vecchione, BWT Pharma & Biotech
Andre L. Walker, CPIP, Walker BioPharm Consulting
Jack N. Wentz, Lantheus Medical Imaging
Jay F. Zaino, EMSBMS, LLC
Gary V. Zoccolante, BSME, Plymouth Rock Water Consultants
Twenty Years
Douglas Brenner, Pharmaceutical Automation LLC
Eric D. Felz, Takeda Pharmaceutical Company Limited
William A. McWilliams, Boehringer Ingelheim Pharma
Fifteen Years
Leo T. Bedard, Sanofi
John Hamel, Applied Control Engineering Inc
Ten Years
Nickolas A. Brings, MBA, Biogen Idec
Tony Casassa, Mettler-Toledo Thornton
Niranjan S. Kulkarni, PhD, CRB
Five Years
Daniel Bendell, BS, ITIL, Assurance Technology Management
Michael Cammarata, Pfizer
Cara Catinella, DPS Engineering
Renee Driscoll, A/Z Corporation
Eric Lahti, Biotech Builders Group
Dr. James Levin, DVM, DACLAM, Perkins + Will
Daniel Madru, Ci Design Inc
Michael Patrick Murphy, ICQ Consultants
Joe Murphy, Ironwood Pharmaceuticals
Bethany Silva, Endress + Hauser
Matthew Patrick Sitcoske, High Purity New England, Inc.
Jeannie Thacker, TRIA