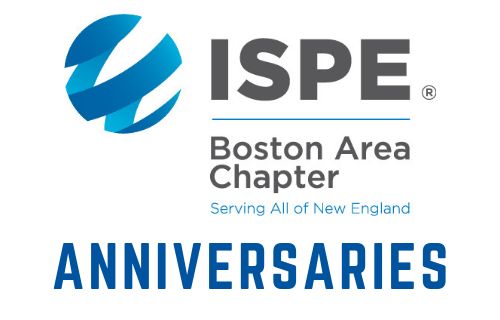 Chapter Member Anniversaries: March 2023
Posted by ISPE Boston
On March 6, 2023
Please congratulate the following members celebrating milestone anniversaries in March 2023.  Their dedication to ISPE, the Boston Area Chapter and the industry is applauded!
Over Twenty Years
Saboo Aghababayan, National Resilience
Danielle Bottari, Pfizer
Charles Cooney, MIT Chemical Engineering
Robert Davis, Process Control Solutions
Michael Diker, Bristol-Myers Squibb
Brian Duffy, Integrated Project Services
Eric Felz, Takeda
Brian Hagopian, Clear Water Consulting, Inc.
David Harney, Microfluidics
Mitchell Hollander, Lantheus Medical Imaging
Stephen Kuzil, Novo Nordisk
Carolyn Lee-Parsons, Northeastern University
Howard Levine, BDO USA
Lila Li, Takeda
Joseph Musiak, EyePoint Pharmaceuticals
Peter Petrillo, Millennium Facilities Resources Inc
Gregory Ruklic, Independent
George Skillin, Moderna Therapeutics
Howard Sneider, DPS Group
Robert Vecchione, BWT Pharma & Biotech
Andre Walker, Walker BioPharm Consulting
Gary Zoccolante, Plymouth Rock Water Consultants
John Zurheide, Sanofi

Twenty Years
Anubhav Bhargava, Skanska USA Building Inc
Kevin Caffrey
Kurt Willner, Arranta Bio
Fifteen Years
Andrew Mica, Biogen
Michel Thenin, Spraying Systems Co
Ten Years
Sue Marrichi, Ultragenyx Pharmaceutical Inc
Mark Melilli, DPS Engineering
Sean Smith, Homology Medicines
Thomas Weiss, Creative Environment Corp.
Five Years
James Holbrook, Lantheus Medical Imaging
Roland Jenkins, B.W. Kennedy & Co