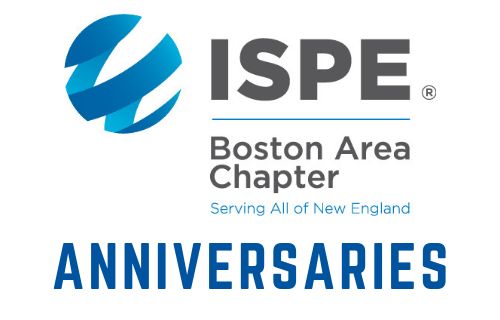 Posted by ISPE Boston
On June 4, 2018
Please congratulate the following members celebrating milestone anniversaries in May 2018.  Their dedication to ISPE, the Boston Area Chapter and the industry is applauded!

Over Twenty Years
Keith A. Farnsworth, Zajac LLC
Warren A. Hill,
Timothy J. Horgan, Alnylam Pharmaceuticals
David L. Hyde, CBA, CPIP, Lantheus Medical Imaging, Inc.
Richard G. Kotosky, PE, CPIP, Kotosky Consulting LLC
James F. Miller, Jr., CRB
Stephen P. Rossmeisl, DPS Engineering

Twenty Years
Joseph Sollecito, Shire HGT

Fifteen Years
Jason Carter, Alnylam Pharmaceuticals
Anthony V. Gopaul, STERIS Corporation
Danny B. Haskell, NeoMatrix, Inc.
John D. Sheridan, LEED AP, PMA Consultants LLC

Ten Years
Randall Spayd, Lonza Biologics Inc

Five Years
Raymond Boudreau, Process Automation Solutions
Milton Chan, Albireo Energy
Josie K. Corcoran, Columbia Construction Co
Heather Hochuli, CPIP, Pfizer
Caroline M. Rufo