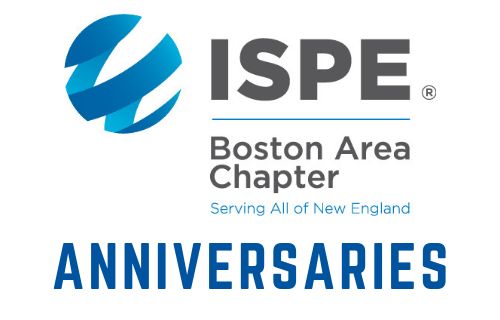 Posted by ISPE Boston
On December 6, 2017
Please congratulate the following members celebrating milestone anniversaries in November 2017.  Their dedication to ISPE, the Boston Area Chapter and the industry is applauded!
Over Twenty Years
Charles H. Brown, II, MS
James R. Dube, Associate Director, Technology Transfer, Global Technical Services, Alexion Pharmaceuticals
Thomas G. Larkin, Jr., Sr Project Engineering Manager, Amgen Inc
Pasquale M. Sacco, SVP, Manufacturing, Shire HGT
Twenty Years
John J. Kelliher, Plant Engineer
Fifteen Years
Dr. Claus Weisemann, PhD, VP Quality Affairs, Luitpold Pharmaceuticals
Ten Years
Michael P. Gaa, Senior Project Manager, Project Management & Construction, Lend Lease
Jacqueline D. Schumacher, Sr. Director, Pfizer Inc
Five Years
Mark Victor DeFelice, Validation Specialist, Commissioning Agents Inc
Christopher S. Peterman, Process Engineer
KerriAnn MacNeill, Engineer III, Plant, Biogen Idec
Kenneth Bernstein, Senior Scientist, Pfizer
Adrian K. Peskett, Director, Pfizer Global Mfg.
Nicholas J. Leoleis, Sr. Plant Engineer, Shire
Dr. Joseph F. Taylor, BSc, PhD, VP Manufacturing Quality, Intracellular therapies