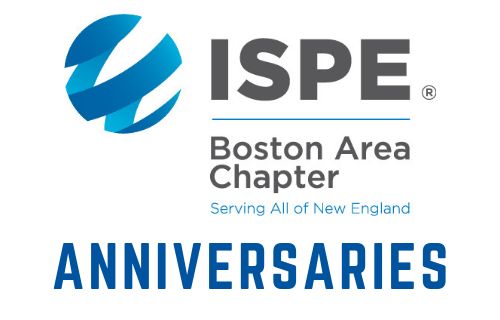 Posted by ISPE Boston
On November 4, 2019
Please congratulate the following members celebrating milestone anniversaries in November 2019.  Their dedication to ISPE, the Boston Area Chapter and the industry is applauded!
Over Twenty Years
Charles H. Brown, II, MS
Ronald J. Friedman, Exyte
Michael J. Mirabito, Saybrook Associates
Donald A. Ross, BSCE, MSCE, A/Z Corp
Pasquale M. Sacco, Translate Bio
Peter M. Sampson, Pure Process Technology
Brian W. Saxton, BSChE, MBA, Stealth Biotherapeutics
Twenty Years
Timothy F. Curran, PE, NV5
Fifteen Years
Joseph P. Durning, P.E., ASAHI America Inc
Thomas J. Erdenberger, Sartorius-Stedim Corp
Peter S. Ng, Nova BioMedical
Joseph St Laurent, Chemic Laboratories, Inc.
Ten Years
Ian Sellick, Pall Biotech
Five Years
Shailaja Mandapuram
Dr. Shawn Kinney, Berkshire Sterile Manufacturing
Caren Jenkins, BV Testing/Certco
Nick Cassaro, DPS Group