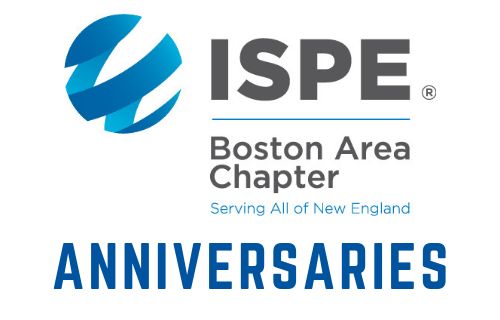 Chapter Member Anniversaries: November 2020
Posted by ISPE Boston
On November 5, 2020
Please congratulate the following members celebrating milestone anniversaries in November 2020.  Their dedication to ISPE, the Boston Area Chapter and the industry is applauded!
Over Twenty Years
Charles H. Brown, II, MS, Retired
Timothy F. Curran, PE, NV5
Ronald J. Friedman, Exyte
Donald A. Ross, BSCE, MSCE, A/Z Corp
Pasquale M. Sacco, Translate Bio
Peter M. Sampson, Pure Process Technology
Brian W. Saxton, BSChE, MBA, Stealth Biotherapeutics
Twenty Years
Leighton S. Terwilliger, Casella Process Solutions
Fifteen Years
J J. Curry, OpStat Group Inc.
Paul S. Tierney, Jr., Northeast Engineering Inc
Ten Years
Kurt Kashuba, A/Z Corporation
Brian Mulcahy, Bothwell Engineering
William B. Okita, EMD Serono, Inc.
Five Years
Janelle R. Carretero, NECI
Lisa Conti, Sarepta Therapeutics
Brendan McLaughlin, Emerson Automation Solutions
Eddie Skillington, PMP, DPS Group
John P. Ward, Patheon, Thermo Fisher Scientific