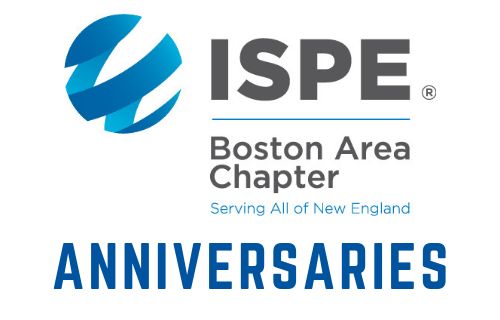 Chapter Member Anniversaries: November 2021
Posted by ISPE Boston
On November 1, 2021
Please congratulate the following members celebrating milestone anniversaries in November 2021.  Their dedication to ISPE, the Boston Area Chapter and the industry is applauded!
Over Twenty Years
Charles H. Brown, II, MS
Timothy F. Curran, PE, NV5
Thomas G. Larkin, Jr., Massachusetts Biologic Laboratories
Edward F. O'Rourke, Environmental Health & Engineering
Donald A. Ross, BSCE, MSCE, A/Z Corp
Peter M. Sampson, Pure Process Technology
Robert M. Stern, Sanofi
Leighton S. Terwilliger, Casella Process Solutions
Twenty Years
Michael R. Allard, Venair Inc
Peter T. Fox, E2i, Inc.
Fifteen Years
Jonathan D. Davis, Associates of Cape Cod, Inc
Jared B. Marshall, Rubius Therapeutics
Herbert Ordonez, EMERGENT Biosolutions®
James C. Spavins, M.S Chem E
Ten Years
Brian P. Kennedy, UniQure
Five Years
Ankur Shah, PE, DPS Engineering
Dariana A. Brazil, Amgen