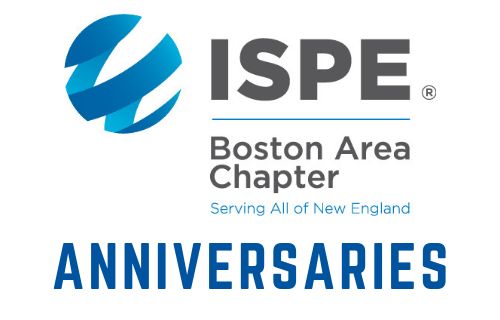 Posted by ISPE Boston
On November 8, 2018
Please congratulate the following members celebrating milestone anniversaries in October 2018.  Their dedication to ISPE, the Boston Area Chapter and the industry is applauded!
Over Twenty Years
Dr. Michael T. Ku, PharmD, MBA, Pfizer Inc
John S. Magyar, Parsons Infrastructure & Technology
Ric Feldt, Jeff Smith & Associates
Stephen R. Higham, PE, Sanofi
Peter M. Solazzo, Turnkey Modular Systems Inc
Thomas W. Moss, Applied Process Solutions, Inc.
Fifteen Years
Robert A. Snow, CPIP, Genzyme  A Sanofi Company
Ten Years
Paul A. DePriest, PM Group
Dennis L. Doody, Shire
Bryan Laskowski, Hargrove Controls + Automation
Blaine Sanborn, Watson-Marlow Inc.
Five Years
Marcel Moulaison, Ironwood Pharmaceuticals Inc
Mark A. Baker, DPS Group
Lexan Lhu, Charter Medical
Jerome H. Kapferer, Johnson Controls
Thomas F. Taylor, Foxx Life Sciences
Jeffrey Boyar, Alexion Pharmaceuticals
Michael J. Rongione, Pare Corporation
Margaret Grace, Biogen Idec
Stephen J. Montibello, PE, BR+A Consulting Engineers, LLC