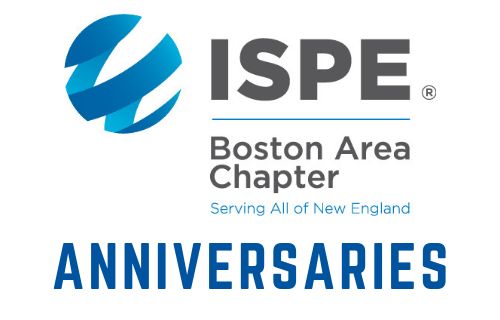 Chapter Member Anniversaries: October 2021
Posted by ISPE Boston
On October 4, 2021
Please congratulate the following members celebrating milestone anniversaries in October 2021.  Their dedication to ISPE, the Boston Area Chapter and the industry is applauded!
Over Thirty Years
Peter M. Solazzo, ModWave LLC
Over Twenty Years
Mark S. Caswell, Lonza Biologics Inc
William G. Devine, Pharma-Tech Services
Ric Feldt, Jeff Smith & Associates
Dr. Michael T. Ku, PharmD, MBA, Pfizer Inc
William R. Lee
John S. Magyar, Hodess Cleanroom Construction
Daniel J. Rufo, Jr.
Charles S. Vaciliou, Erland Construction, Inc.
Twenty Years
Louis R. Cicchese, MBA, BSChem, Genzyme Corporation
Alan F. O'Driscoll, CPIP, Jacobs Engineering
Ten Years
Jean Quong, CPIP, Sanofi Specialty Care
Daniel Kirk, Lonza
Adam Hall, Lonza Biologics Inc
James B. Cannon, Mettler-Toledo Thornton Inc
Wayne T. McFarland, Vertex Pharmaceuticals
Five Years
Tyler J. Kaleta, Thermo Fisher Scientific
Patrick John McKelvey, DPS Engineering
Marisa Sposato, Vertex Pharmaceuticals