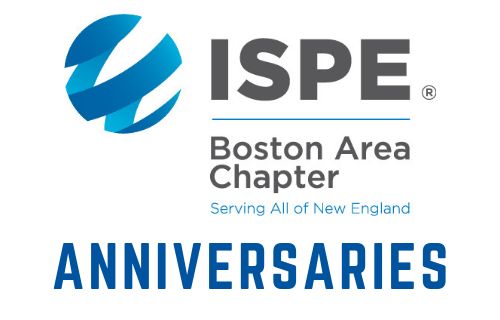 Posted by ISPE Boston
On October 4, 2019
Please congratulate the following members celebrating milestone anniversaries in September 2019.  Their dedication to ISPE, the Boston Area Chapter and the industry is applauded!
Over Twenty Years
Ric Feldt, Jeff Smith & Associates
Dr. Michael T. Ku, PharmD, MBA, Pfizer Inc
John S. Magyar, Parsons Infrastructure & Technology
Thomas W. Moss
Peter M. Solazzo
Twenty Years
William J. Jacobsen
Daniel J. Rufo, Jr., Industrial Process Management LLC
Fifteen Years
Martin A. Ducharme, MAD Consulting
William Held, II, The Cardinal Group USA LLC
Fred W. Scribner, III, Columbia Construction Co
Glenn M. Slawson, Commissioning Agents
Michael C. St Louis, Critical Process Systems Group
John Sullivan, AS, AbbVie Bioresearch Center
Brandon S. Varnau, Sanofi
Ten Years
Jeffrey Bruno, Genzyme Corp
Paul Esteves, BSc, M.S., IPR Consultants
Fredric Halsall, Donnegan Systems, Inc.
Alan Karner, Process Design Solutions, LLC
Joseph G. O'Brien, Pfizer
Srini Paluri, Emerson Process Management
Michael Thompson, Plastic Concepts, Inc.
Mary Valentino, Thermo Fisher
Five Years
Michelle Wang, Takeda
Jeffrey Talka, Architect, SMRT Inc
Andrew Sparaco, Commodore Builders