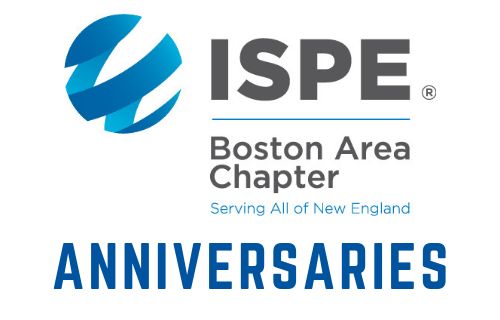 Chapter Member Anniversaries: September 2020
Posted by ISPE Boston
On September 8, 2020
Please congratulate the following members celebrating milestone anniversaries in September 2020.  Their dedication to ISPE, the Boston Area Chapter and the industry is applauded!
Over Twenty Years
Gordon W. Brailsford, Jr., J Calnan & Associates
Robert T. Clark, Perrigo, Inc.
Douglas E. Grevatt, Boehringer Ingelheim Pharma
Edwin L. Harmon, III, LSNE – Contract Manufacturing Organization
Michael J. James, Northeast Water Services
Armand Mintanciyan,
John L. Poirier, Nitto – Avecia
Hooman Sajedian, Pfizer Inc
Lawrence W. Weiner, ME, MBA, Enzyvant Therapeutics
Jeffrey L. Werner, BA, MS, Retired
Fifteen Years
Catherine Hall, MS, MBA, Endpoint Clinical
Jorge A. Torres-Gonzales, Biopharma Consulting JAD Group
Ten Years
Jon M. Lightfoot, Lonza – Portsmouth Remote
Daniel Post, Bristol-Myers Squibb
Jason Theberge, Commodore Builders
Five Years
Peter M. Cottrell, Takeda Pharmaceutical Co. Ltd.
Dr. Morteza Farrokhsiar, Takeda Pharmaceuticals Inc.
Samuel Field, Delta Project Management
Zach Foster, Alnylam Pharmaceuticals
Vincent Guido, Terracon Corporation
Perry K. Lorenz,
Kaci Markewicz,
Philip Michel, Ultrafiltronics
Peter Mitchell, Pall Corporation
William G. Moran, Organogenesis
Matt Peranelli, Northeastern University
Laura Ploude, Epizyme
Andrew C. Rountree, BS,MS, Rubius Therapeutics
Zach Stufflebeam, Stantec Consulting Services Inc