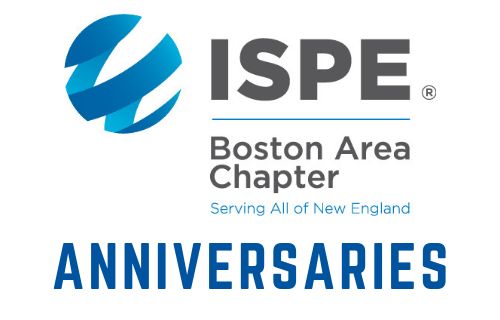 Chapter Member Anniversaries: September 2021
Posted by ISPE Boston
On September 3, 2021
Please congratulate the following members celebrating milestone anniversaries in September 2021.  Their dedication to ISPE, the Boston Area Chapter and the industry is applauded!
Over Thirty Years
Edwin L. Harmon, III, LSNE – Contract Manufacturing Organization
Over Twenty Years
Gordon W. Brailsford, Jr., Cresa Boston
Robert T. Clark, Perrigo, Inc.
Donna A. DeFreitas, Sanofi
Douglas E. Grevatt, Boehringer Ingelheim Pharma
Armand Mintanciyan,
Hooman Sajedian, Pfizer Inc
Lawrence W. Weiner, ME, MBA, Enzyvant Therapeutics
Jeffrey L. Werner, BA, MS, Retired
Twenty Years
Steven A. Finco, Commisioning Agents, Inc.
Fifteen Years
Mike Kubick, Perfex Corp
Stephen E. O'Brien, Pfizer Inc
James E. Taylor, Lean Biologix, LLC
Ten Years
Dr. Maurizio V. Cattaneo, CPIP, Artemis Biosystems
Five Years
Zach Stufflebeam, Stantec Consulting Services Inc
Laura Ploude, Epizyme
Matt Peranelli, Northeastern University
William G. Moran, Organogenesis
Philip Michel, Ultrafiltronics
Kaci Markewicz,
Thomas W. Joyner, AHA Consulting Engineers