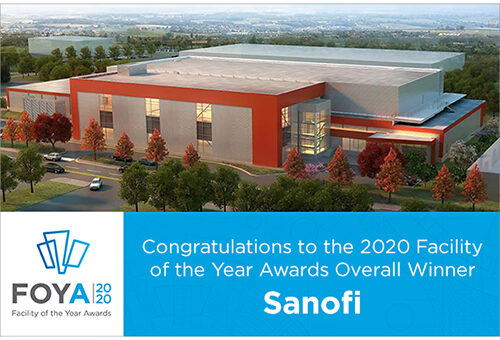 Congratulations to Sanofi
Posted by ISPE Boston
On November 5, 2020
Congratulations to Sanofi, who was just named the 2020 Facility of the Year Awards (FOYA) Overall Winner at the 2020 FOYA Banquet during the virtual 2020 ISPE Annual Meeting & Expo.
Sanofi was awarded the 2020 FOYA Facility of the Future Category Award in April 2020 for its Sanofi Digitally Enabled Integrated Continuous Biomanufacturing Facility in Framingham. This fully integrated bioprocessing facility takes the application of disposable process technology and flexible facility design to a new level. Using the best of already proven technology and design, they've expanded the use to allow design and construction of a facility that enables continuous upstream and downstream processing.
Once again, congratulations to Sanofi! We applaud their efforts in continuing to set new standards in pharmaceutical manufacturing.
Get inspired now by learning more about Sanofi's project and the projects of all the ISPE 2020 FOYA Category Winners.