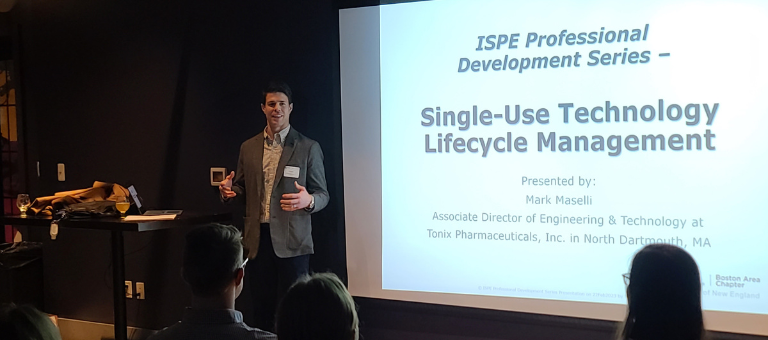 Emerging Leaders Professional Development Series off to a Great Start!
Posted by Irtiza Akhtar
On February 28, 2023
This past Wednesday, February 22, 2023, Emerging Leaders hosted their inaugural Professional Development Series: Single-Use Technology Lifecycle Management. Forty people came to this sold-out event at the Craft Food Hall in Waltham to enjoy some yummy snacks and networking before settling in to enjoy the presentation by Mark Maselli, the Associate Director of Engineering and Technology at Tonix Pharmaceuticals.
For anyone that missed this wonderful presentation, keep on reading for a summary.
Single-use technology (SUT) has been with the life science industry since 2010. This technology involves the use of disposable components and equipment, which are discarded after use rather than being cleaned and reused. Single-use technology is used in various stages of biopharmaceutical production, from research and development to commercial manufacturing. There are several advantages of SUT over traditional stainless-steel equipment. Firstly, it reduces the risk of cross-contamination between batches of different products, since each batch can be produced using entirely new equipment. This also eliminates the need for cleaning and validation, which can save time and resources.
SUT is also highly flexible and can be easily adapted to meet changing production needs however constant vendor and supplier communication is required to nail down solid design of product (following Quality by design approach). However, with the recent trend in SUT shows that there is a gap between industry knowledge of SUT and its adoption. Despite the advantages that SUT offer, SUT is not without its limitations. For example, the use of disposable components can generate a significant amount of waste, which can be a concern for environmental sustainability. There are also concerns about the potential for the leaching of contaminants from single-use components into the product, although extensive testing has shown that this is generally not a significant issue.
The life cycle of SUT involves four to five stages: Planning & design, manufacturing per regulatory requirement & specification, implementation/ Installation, and Maintenance/ disposal. Each stage requires thorough attention to detail to ensure that the single-use components and equipment meet the necessary quality standards and specifications. Validation (Installation) is another critical component of the life cycle of SUT. It involves a series of tests and evaluations to ensure that the single-use components and equipment meet the acceptance requirements for its process and that required maintenance activities are in place. Validation activities include testing for material compatibility, extractables and leachable, and sterility assurance, among other factors.
In conclusion, SUT is a rapidly growing trend in the life sciences industry, with several advantages over traditional stainless-steel equipment. While it has some limitations, it is likely to continue to play an increasingly important role in pharmaceutical production in the coming years.
Thank you to Azzur Group, our Professional Development Series sponsor! Without you, this program would not have been possible.
Did you take pictures? Email them to office@ispeboston.org and we'll add them to the slideshow below!