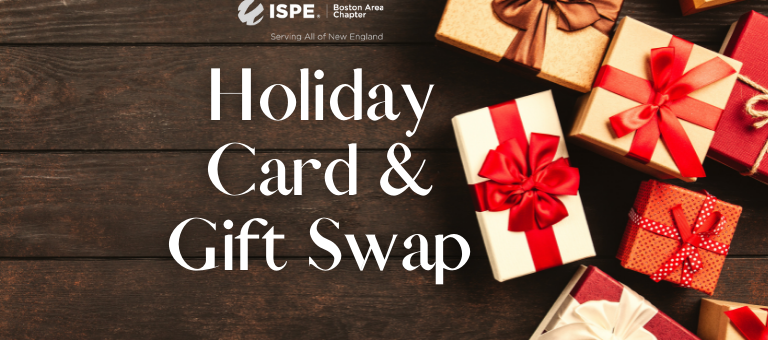 First Annual Holiday Card and Gift Swap!
Posted by ISPE Boston
On November 16, 2021
Join the ISPE Boston Women in Pharma (WIP) for the First Annual Holiday Card and/or Gift Exchange. Spread a little holiday cheer, meet new people, and connect! We are offering the option of swapping cards, gifts (minimum $25 in value) or both. Great opportunity to give a little and get a whole lot in return! ALL who would like to share the seasonal spirit are welcome to join in the fun!

It's super easy and fun for all! Here's what you do:
1. Sign up by filling out the intake form  >> here <<  *Deadline to register: Monday, November 29 at noon!
2. Choose online whether you'd like to swap a holiday card, gift, or both!
3. You will receive an email with your secret holiday swap info and preferences on November 29th.
4. Purchase holiday gift, card, or both depending on their preference. For those of you who are not shoppers, both card and gift can be electronic!
5. Send out your card and/or holiday gift by December 15 to avoid any shipping delays. (To avoid the high cost of shipping consider places that offer free shipping such as Amazon, Target, Walmart, etc.)
6. Wait patiently for your card, gift, or both.
7. Receive your swap and C E L E B R A T E!
8. Send a thank you to your secret holiday cheer bringer and start a conversation!
9. Take a photo of your card or gift, and share with WIP Boston so we can post our happy swappees on LinkedIn and Twitter.
10. Like, Share, Tweet, & Re-tweet the LinkedIn and Twitter Secret Holiday Cheerer posts and photos on ISPE Boston.
11. ENJOY VERY HAPPY HOLIDAYS EVERYONE!!!