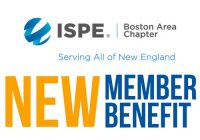 Posted by ISPE Boston
On February 27, 2018
Have you taken advantage of ISPE's latest Member benefit yet? ISPE's collection of Good Practice Guides are now available to you through ISPE's new Guidance Document Portal for FREE—valued at more than $3,000.
This extensive library of 24 Guides can be viewed in just a few clicks. Access the portal here and log in with your usual account credentials. Once logged in, you will be directed to "My Bookshelf" where you can view all Good Practice Guides and any Guides you've previously purchased. Make sure to bookmark this link for future easy reference.
Key Portal Benefits:
Swift, Reliable Access
Modern, User-Friendly Experience
Excellent Usability on Mobile Devices
We hope you enjoy your new Member benefit and ISPE's new Guidance Document Portal! ISPE welcomes your feedback as they continue to enhance the value of your
ISPE Membership.