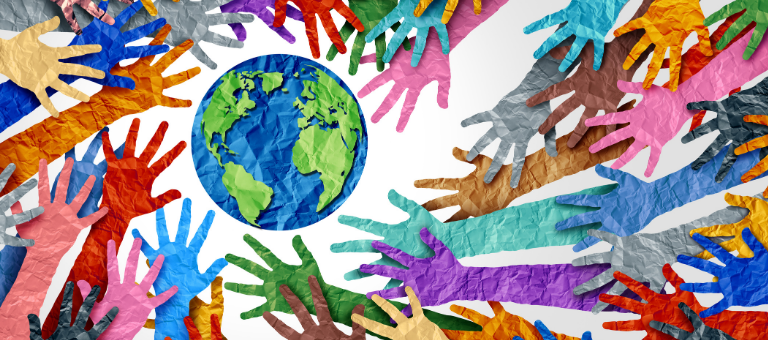 How the Ethnocultural Diversity & Inclusion Initiative Came to Be
Posted by Eric Felz
On January 27, 2021
Let's be honest. Conversations about racial diversity, equity and inclusion are tough. Lots of times, they are challenging and uncomfortable. However, over the last several years, the need for these conversations has become increasingly evident. Particularly, over the past year, I have seen a great deal of tension around racial inequality with demonstrations and protests, some peaceful, focusing on the collaboration and improvements needed to move forward together, and others not so peaceful, focusing instead on the outward manifestation of pain and chaos felt due to injustices dealt to specific members of society. These demonstrations, these protests, peaceful or otherwise, have led to another need that has been increasingly evident; conversation is just the start. We need action. We need to do some things differently.
In the wake of George Floyd's death, specifically, I started reflecting on what I can do differently.  As the Chapter President, I asked a Past President, Jack Campion, about starting a committee looking at racial diversity, equity and inclusion.  As a major contributor to starting the Chapter's Women-in Pharma® initiative, Jack has shown an understanding of the need to advance our community through advocating for groups that have been historically underrepresented.  We agreed that rather than simply making a public statement supporting ethnic diversity or admonishing racism, we needed to act. We needed to figure out what the Chapter could do to support racial diversity within ISPE and especially within industry.  It was clear that there is a lot that can be done, and that I am the right person to help drive change in the chapter and get volunteers to support this mission.
But why diversity? Why ISPE? Why now?
Diversity just makes good business sense.  A more diverse workforce is a more productive workforce.  Diversity means that people think differently and are more competitive. Diversity leads to better, more innovative solutions to the problems we strive to resolve. But why ISPE?  The Boston Area Chapter is the largest ISPE Chapter in the world with over 100 Volunteers, strong student chapters, robust industry and vendor ties and a great deal of the infrastructure already in place that could be used to help this mission.  A mobilization of this wealth of resources not only leads us closer to our mission but singles out ISPE as a leader within the industry. We become the conduits for different parts of industry, of business organizations, academia, grade school education and all other aspects, to share their inputs and grow generations of engineers from diverse backgrounds. And why now? With such strong ties to industry, it's been hard to miss that diversity, equity and inclusion is not a new conversation. But now, more than ever, we have the support, the resources and the emotional readiness to take the next steps past the awkward, uncomfortable conversations and into the actions we need to take to get our community, our society to a better, more equitable state.
So what comes next for us?
Since June, team of colleagues has been coming together to drive this initiative. We've shared ideas and taken actions and now we invite you to do the same. I invite you to join us at a kickoff event on February 24 where we will have a panel to discuss the future of diversity in pharma and how we tackle this issue from multiple aspects.
If you are like me and want to know what you can do and how you can impact your community, I invite you to attend this event.  This initiative will always be inclusive of people who want to help support diversity in the pharma industry and people who have benefited and want to give back.  There is a lot of work to do and I am confident that we will make an impact in tangible, meaningful ways as we all come together.