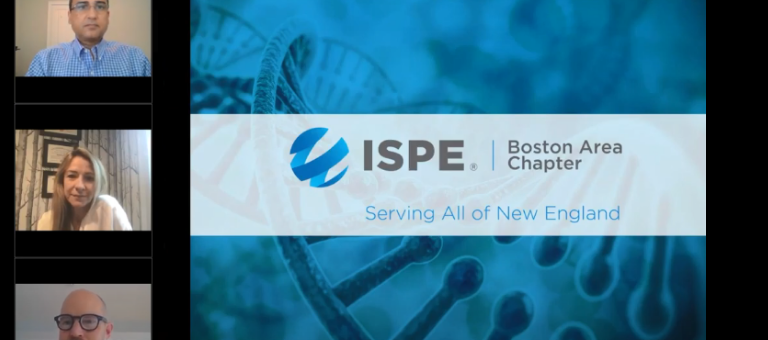 Posted by ISPE Boston
On August 19, 2020
Interested in advice from respected industry professionals on how to achieve your career goals and navigate unexpected career turns? Then we're sure you tuned in for the Chapter's first career development "fireside chat" when Haroon Hashmi of Ziopharm Oncology and Jane Rhodes of Verge Genomics settled in for a virtual Q & A with moderator Charlie Maher of Commissioning Agents and shared their personal career stories. And if you missed it, there's good news: the session is now live on our YouTube channel. As a special bonus, see below for answers to questions that could not be addressed during the session due to time constraints, including must-reads Jane and Haroon found helpful as they navigated their career paths.
Haroon is currently Senior VP of Regulatory Science at Ziopharm Oncology where he oversees all regulatory functions and provides strategic support for the company's gene and cell therapy platforms. He has over 24 years of industry experience in global drug development in neurology, oncology, and hemophilia covering the US, EU, and APAC regions and played a key role in Biogen's expansionss in the APAC region.
Jane brings more than 20 years of drug discovery, company building and strategy leadership in the biotech industry to her current role as Chief Business Officer at Verge Genomics, including 18 years at Biogen, where her achievements include founding the Value Based Medicine (VBM) Innovation Hub. Prior to her work in business strategy, Jane spent a decade leading discovery research culminating in more than 35 peer reviewed publications and 9 patent filings.
Did you pursue mid-career education? Did it help achieve a career goal?
Haroon: Yes, I have pursued mid-career education but out of my own interest and knowledge; it was never meant with the intention to achieve career goals.
Jane: Yes, I completed an executive MBA mid-way through my career. I found it significantly enabled my career objectives to advance towards a business-related role in biotech.
What should you look for in a mentor?
Haroon: I look for humility and the person has to have this "wisdom" about them – not just someone who can tell the DOs and DONTs.
Jane: I look for someone with a track record of developing people who has relevant expertise, a strong network and whom I admire and can relate to.
Has your career benefited by moving between organizations?
Haroon: Yes, somewhat in terms of scope and responsibility. Sometimes one has to make that choice for the purpose of growth in their career.
Jane: I haven't moved between organizations much in my career and often wonder if I would have advanced more quickly if I had.
What are the challenges you have faced or are facing as you climb the career ladder?
Haroon: First challenge one faces is leadership within the functional area but as you continue to climb the ladder, you have to address the opportunities and challenges that the organization faces in general.
Jane: Differentiating management from leadership, time management through effectively delegating, diminishing, deferring or deleting.
Have you used a skills assessment tool to identify strengths?
Haroon: Yes.
Jane: Yes, several times as the results can evolve as you evolve in your career.
Did you make a transition from one functional area to another? Tips?
Haroon: Yes! Do not make the change just for the sake of change – grass is not always greener on the other side. Determine your signature strengths and interests and determine if there is a better fit in another function than where you are currently. It is easier to make transition early in one's career than later.
Jane: Yes, several times: Understand what you want in your new role and seek the right fit.
How did you transition from graduate studies to industry?
Jane: I did a post doctorate in biotech so I transitioned right out of grad school.
How/when did you make your first career transition?
Jane: About 8 years in, I moved from basic research to program leadership. I bridged my old and new roles, with 50% of my time in each, for several months before fully transitioning to ensure it was what I wanted.
Are there any books you would recommend about being/becoming a top performer?
Haroon: Any leadership book is useful and will provide relevant tips. Some recent favorites are:
Extreme Ownership is a must read – Extreme Ownership by Jacko Willink & Leif Babin
Grit: The Power of Passion and Perseverance by Angela Duckworth
Multipliers by Liz Wiseman & Greg McKeown
Tribal Leadership by Dave Logan & John King
Jane: I second Multipliers by Liz Wiseman and Greg McKeown. Also, What Got You Here Won't Get You There by Marshall Goldsmith.