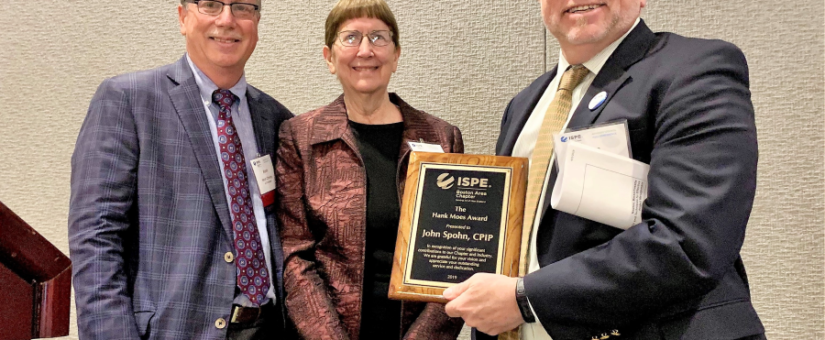 Posted by John Spohn
On April 11, 2019
Yesterday I attended the inaugural Spring Conference of the Boston Area Chapter and I rate it an unqualified success.  The conference on the Culture of Exceptional Project Management was indeed a perfect example thereof.  Hats off to Howard Sneider and the committee that hit a home run, in their first at-bat.
And the final networking reception was the best.  Certainly, it was for me as I was presented with the Hank Moes Award.
What is that? "The Hank Moes Lifetime Achievement Award is annually reviewed by the Boston Area ISPE BOD for eligible candidates nominated for consideration.  A selected candidate would be recognized for a comprehensive body of work and specific accomplishments that are truly extraordinary, widely recognized as such, and of positive and lasting quality to ISPE and the Biopharmaceutical industry."
A highlight of my term as Chapter President was presenting a Moes Award to my colleague and friend Doyle Johnson and was satisfied to get that close to one.  Then I got a call from current President Kevin Chronley….
Once the euphoria abated, I thought hard about how this could come to be, and why it was such a surprise and realized it told a great story that recommends volunteering with ISPE.   I worked that into my acceptance remarks which I am reproducing here by request:
"Thank you, Kevin
I am humbled to be recognized by the organization that has done more for my professional development than any other and through which I have gained many dear friends.
Technically-inclined people are often literalist and perfectionist like me.  Because the flaws in the things we observe jump to our eyes we are keenly self-conscious of our own.  So, forgive me for having my Sally Field moment while my imposter syndrome is laid to rest.
Of course, no Oscars reference is complete without a litany of 'thank-you's:
Truly, the most deserving is the Boston Area Chapter writ large.  Its culture of giving volunteers the support and trust to deliver new and higher excellence has a beautiful symbiosis with hundreds of active volunteers who get it – who, like me know in their bones that, over time, what they receive exceeds what they give.  I have worked in many volunteer organizations and at many levels.  This ecosystem is special and unique – and fragile – so we ought to nurture it with care.
There are individuals that impinged on the trajectory to this moment whom I must thank:
I thank Wayne Pearson of Castle Hill Technologies, who took a chance bringing me into pharma and, understanding the value, established me at the ISPE entry level of 'Attendee'.
I thank Doyle Johnson, then of Genzyme, whose deft jiu-jitsu move landed me, blinking, in that 'how did that just happen?' sense – in the role of Volunteer.
I thank Joyce Chiu, who partnered with me to develop the Study Group program that delivered 75 of the 150 CPIPs in the world, which led me, unknowing, into the role of Program Leader.
I thank Janet Tice, whose tireless dedication to sharing the good news about the Chapter meticulousness about effective messaging and editing skill helped me develop an Article of The Year.
I thank that infectious agent Brian Hagopian, whose collaboration in ongoing CPIP program development inoculated me with his positivity, boundless energy and the openness to the next, higher challenges of Board and Executive service.
I thank that diplomatic dispenser of the Chapter's tribal knowledge, that masterful marshal of the forces of CAMI, our chapter manager Amy Poole, who can make any President, any Board look and perform better.
And to my better half, Jill.  Ever understanding and ever supportive.  I'd not be here without you.
These thank-yous have been crafted to paint a picture for current and future volunteers – and to the companies who must choose to give the time and financial support so they may participate.   Crafted to make the case behind the truest remark I've ever heard about ISPE. 
Bruce Smith, receiving a high recognition at Annual meeting said:
"ISPE, it grows you"
I will treasure this award, always.  Thank you."