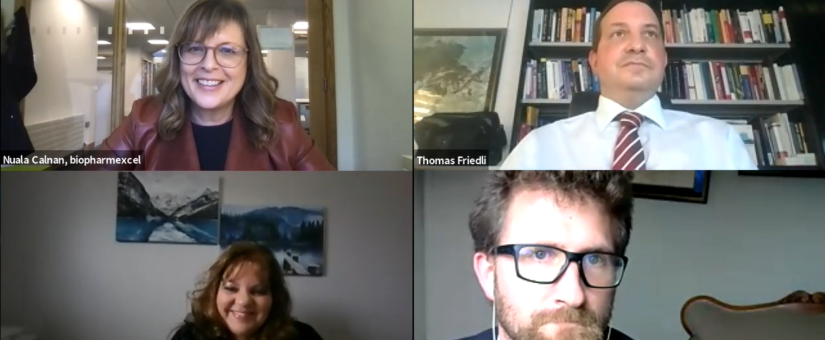 "Pharmaceutical Quality – What's New, What's Next?" Webinar Provides Answers
Posted by Heather Longden
On March 31, 2021
On March 18, the Boston Area Chapter presented "Advancing Pharmaceutical Quality – What's New, What's Next?" via Zoom webinar. This panel discussion covered what's new with ISPE's Advancing Pharmaceutical Quality Program, FDA updates on quality metrics pilots and quality management maturity, insights on the latest pharmaceutical industry operational excellence benchmarks, and practical strategies for building cultural excellence to support enhanced quality outcomes. Our panel of speakers included: Nuala Calnan, PhD, CEO of BioPharm Excel; Tami Frederick, Sr. Director of Corporate Quality and Cultural Excellence at Perrigo; Professor Thomas Friedli, Director at the Institute of Technology Management – St. Gallen University; and Alex Viehmann, Director, Division of Quality Intelligence II, FDA, CDER, Office of Pharmaceutical Quality.
Tami Frederick opened by sharing how ISPE formed the Advancing Pharmaceutical Quality (APQ) program, specifically collaborating with regulators and other industry groups to support the joint goal for improved quality in the pharmaceutical industry by leveraging the guidance from ICH Q10.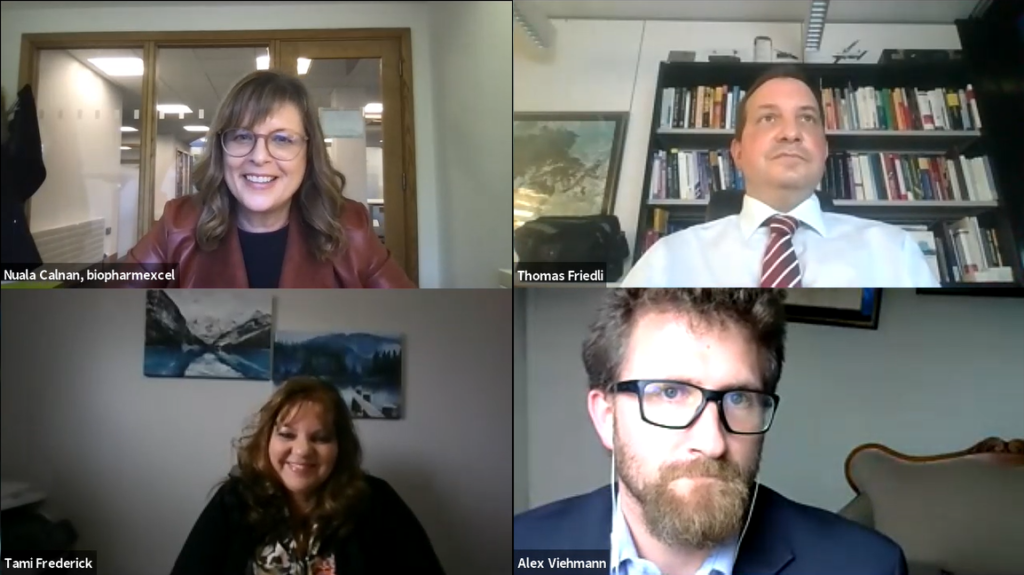 The panel was pleased to be able to welcome Alex Viehmann from the FDA. His excellent presentation outlined how FDA strives to "quantitate the state of quality."  A key takeaway was that while current inspection processes are great at retrospectively uncovering undesired or substandard quality issues, and there is another great lagging metric in the FDA inspection scoring process, there is a desire in the Office of Quality Surveillance for a more proactive quality metric, as well as a metric that can indicate quality "beyond the minimum required for compliance."
An outcome of the Quality Metrics guidances was that the industry has many great quality monitoring processes in place which they believe already drive quality decisions and improvements. Thus FDA and pharmaceutical companies worked together in on-site meetings and feedback programs to share their thoughts about the right metrics and how to shape the QM program.
Among their findings, site-wide reporting is considerably easier and more sensible than product-wide reporting; there is a desire for segment-specific metrics; and some of the existing metrics were "non-discerning," meaning they don't vary between mature quality organizations and immature quality organizations. Another key insight was that quality metrics can be manipulative and are meaningful only with a great deal of context. This led to the conclusion that quality metrics are useful to demonstrate meaningful improvement within a company while less useful when comparing different companies.
Alex then introduced the Quality Benchmarking exercise that FDA created in conjunction with Dun and Bradstreet and St. Gallen University, which resulted from the realization that focusing on pure metrics would not achieve the desired goals. The objective was to devise a questionnaire and invite 200 pharmaceutical companies to describe best quality practices and evaluate themselves on a scale of quality maturity.
Lastly highlighting the October 2019 FDA report "Drug Shortages: Root Causes and Potential Solutions," Alex indicated that industry and regulators would both like to devise a program that rewards drug suppliers that "achieve sustainable compliance and focus on continuous improvement, business continuity plans, and early detection of supply chain issues," stressing that this is not envisioned as a rating system for a particular drug's quality.
Thomas Friedli then took the baton to describe the insights from the Quality Benchmarking exercise and how their research can measure improvements – not in efficiency, or costs, or time to market – but improvements in quality maturity and operation excellence. St Gallen's expertise is not just about looking at the data from surveys or research but also to connect that to quality and sustainability of supply.
Last but not least, Nuala Calnan explored some practical strategies for building cultural excellence to support enhanced quality outcomes, sharing some key ideas from business books which have impressed her on this topic. These included leveraging the scientific process and people's "diversity of thought" to explore "what you don't know," pinpointing the values and behaviors of the people in your organization – both the great examples and near-miss situations, and understanding the why and how to mobilize the entire workforce to the cause of quality and excellence.
The ISPE Cultural Excellence Report (produced by a team co-led by Nuala in 2017) can be downloaded for free from the ISPE website and includes a suite of practical tools for evaluating quality maturity The team has regrouped for an updated report which will include new case studies and expanded information on accountability and reducing human error. In addition, a follow-up webinar from the ISPE APQ team will examine ways to recognize and reward behavior that incentivizes employees to embrace the concept of cultural excellence
A lively 30 minutes of Q&A discussion followed as the panel engaged with attendees and inspired ISPE members to commit to the journey to quality maturity.
Our sincere thanks to educational program sponsors DPS, Genesis, ICQ Consultants and Masy BioServices for supporting this webinar!
Plan to join us in April for our virtual Spring Conference series, "Pharma Plant War Stories: Lessons Learned & Best Practices from Design to Operation." Registration is open now!