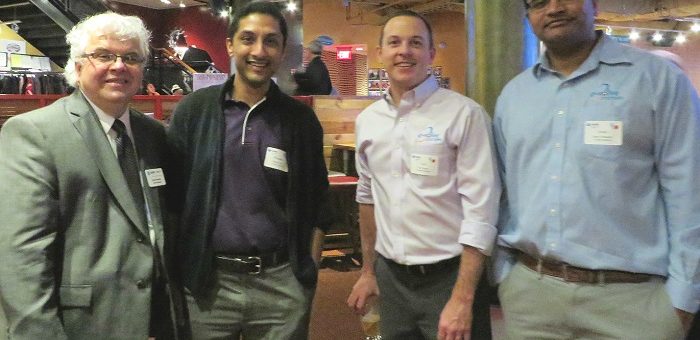 Ping Pong, Baseball and Networking: A Great Start to 2017
Posted by Dan Kenny
On February 14, 2017
The sound of ping pong paddles and baseballs in the batting cage were a welcome opening to 2017 at the Chapter's New Year's Social held at Blazing Paddles at Game On in Kenmore Square. This was the second year the Chapter hosted this event at Blazing Paddles and word got out how much fun it was, so it attracted a very lively crowd. Blazing Paddles made everyone feel welcome with their hospitality, instruction and, of course, the food!
The evening began with excitement and expectations as many of the attendees signed up for the round-robin Ping Pong tournament. While contestants waited their turn they were allowed to take some swings in the Visiting Team's batting cage at Fenway Park adjacent to the event. As the evening progressed, the winners of the tournament emerged:
1st Place – Pradeep Paul from E-Volve Systems,
2nd Place – Zinovy Bokhman from Albireo Energy and
3rd Place – Mark Nemec, also from Albireo Energy.
There were a lot of close matches but, in the end, the victors worked hard for their prizes. There was also a 50/50 raffle with the proceeds donated to the ALS Association. Raffle winner Steve Kelly of Timberline Construction graciously donated his half of the winnings back to ALS, for a total donation of $410.
The Social Committee would like to thank all who attended and helped make this a great event. We would especially like to thank our sponsors: Boston Analytical, Commissioning Agents, New England Labs, DPS and Jensen Hughes. Our sponsors and our admin staff at CAMI really make these events special.
We look forward to seeing everyone on March 3 when Chapter Members venture to Waterville Valley for our Annual Ski Trip. And keep your eyes open for invitations to the Chapter's 25th Anniversary Gala on April 27 at the Intercontinental Hotel in Downtown Bo
ISPE Boston Chapter Vice President Jack Campion (The Hart Companies) and member Vanessa Schulte (TEK Stainless)
The 3 Ping Pong Tournament Winners! From left: 1st Place Winner Pradeep Paul from E-Volve Systems, 3rd Place Winner Mark Nemec from Albireo Energy, and 2nd Place Winner Zinovy Bokhman, also from Albireo Energy
ston. See you there!