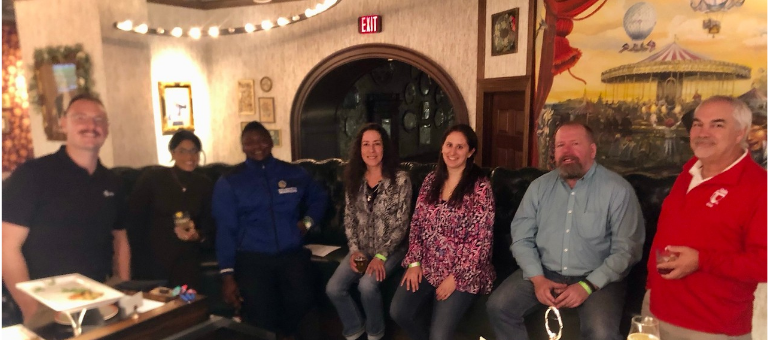 Product Show Committee Kicks-Off 2022 Planning with Volunteer Social
Posted by ISPE Boston
On November 15, 2021
The Product Show Committee met to kick-off planning for the 2022 Product Show on Monday, November 8th at Flight Club, a social darts venue in Boston. This first meeting was an opportunity for volunteers both new and old to meet and to go over what's in store for the coming year.
Volunteers enjoyed a variety of appetizers as PSC Co-Chairs Victor Taubinger and Laura Berberian led the group in a discussion of the areas of focus for 2022. This year, committee members will focus on creating a variety of special features to celebrate the 30th Anniversary of the Product Show. They'll also be working on ideas to spread the word to prospective Product Show attendees who may be new to the area or may not yet know about this awesome annual event. Committee members ended the night with team-building by having some good old-fashioned competition over a few different social darts games!
The Product Show Committee looks forward to another great year of planning and improving the Show. If you have suggestions for the committee or are interested in volunteering, email the Chapter office at office@ispeboston.org! The PSC is always looking for new members and fresh perspectives, and this is a great time to join us as we start on our planning journey!