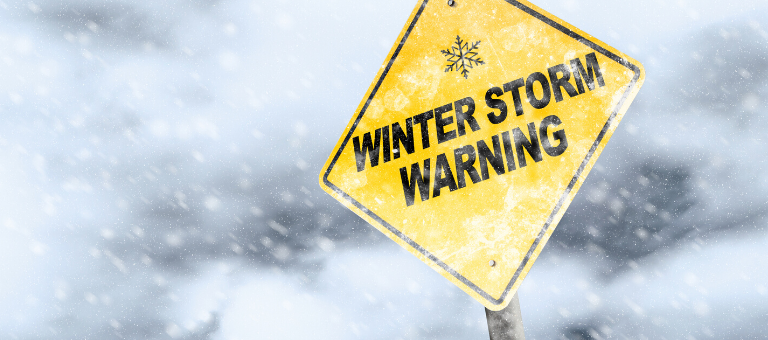 Posted by Sridhar Iyengar
On February 5, 2020
While it's been a mild winter here in New England, winter weather is in the forecast for this weekend. When winter snowstorms hit, it's a good idea to make sure that your laboratory is prepared to handle the consequences of inclement weather. As many of us know, snowstorms can result in power and WiFi outages. When that happens, a laboratory's assets such as reagents and biological samples are at risk. How can you catch and address such issues in the absence of power and WiFi?  Fortunately, there are connected lab platforms that can still operate when your facility loses power and/or WiFi.
There are four main features to look out for in a solution that can effectively monitor your lab during a winter power outage:
Battery powered sensors. These continue to work even when the power doesn't.
Cellular back-up.  Data is still uploaded to the Cloud even when power and WiFi are down
Battery back-up for the Gateway.  As with cellular back-up, this ensures data is not lost in an outage and is uploaded to the Cloud.
Remote alarms. These alert you via email and/or text about out-of-spec conditions in your cold storage equipment.
Let's look at each feature in more detail.
Battery powered sensors
A battery-powered sensor is able to collect temperature data from cold storage even during power outages. Data is transmitted to a battery-backed Gateway tablet that can store data and send it to the Cloud.
Cellular Back-up
A robust system will continuously collect data and make it available for users from anywhere as long as they have an Internet connection. But what happens when the power and thus Wifi fails? A system with cellular backup can still transmit data to the Cloud for uninterrupted operation. Thus users can continue to monitor their labs remotely. If everything was powered by the facility's electrical system these crucial data would be missing.
Remote Alerts
During winter snowstorms you may not be onsite and may be managing snow-related chores of your own, so you may not be monitoring lab conditions as closely.  A reliable platform allows users to set up email and/or text alerts to catch specified conditions, for example a freezer failure. Traditional approaches to catching freezer failures rely on crossing specified temperature thresholds. Modern -80C freezers have strong seals, so it might take several hours for you to learn you've lost power by waiting for a temperature alert.
However, a smart alert rule such as capturing the transition of a Gateway from wall to battery power may be a hint that your lab lost power, more so if all Gateways at your site simultaneously switched from wall power to battery backup.
Let's see how all this plays out in action. The figure below illustrates the temperature profile of a -80C freezer during a power outage. The sinusoidal pattern at the beginning of the chart shows a small temperature variation caused by compressor cycles, indicative of a properly functional freezer. Just after midnight on July 13th the power fails and the system sends an alert to the user about the Gateway transitioning from wall to battery power. This enables the system to continue temperature monitoring without interruption. The temperature of the freezer starts to rise and when it hits -65C, it triggers another alert, this time a temperature one.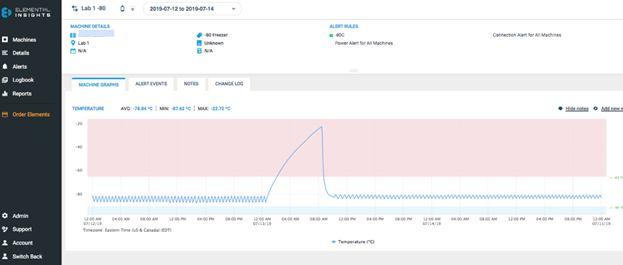 The images below show the email and text alerts sent to the lab director. You can see he was immediately alerted regarding the Gateway power transition and first notified of the temperature alert more than two hours later.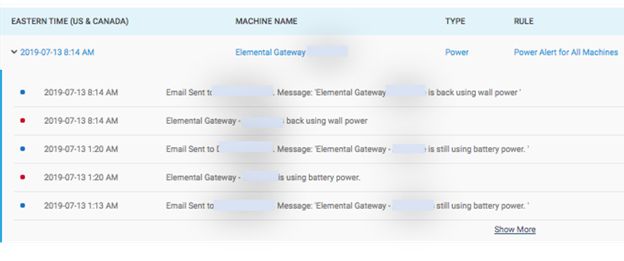 Just as you protect your home or your car from winter's elements, protecting your lab's valuable assets can give you peace of mind and save you money.  A Connected Lab Platform can offer the right features to efficiently monitor your equipment during the winter season…and more.
About the Author: Sridhar Iyengar, a serial entrepreneur, is the founder and CEO of Elemental Machines. Prior to Elemental Machines, Sridhar founded Agamatrix which developed the world's first medical device to connect to the iPhone and Misfit which was acquired by Fossil.