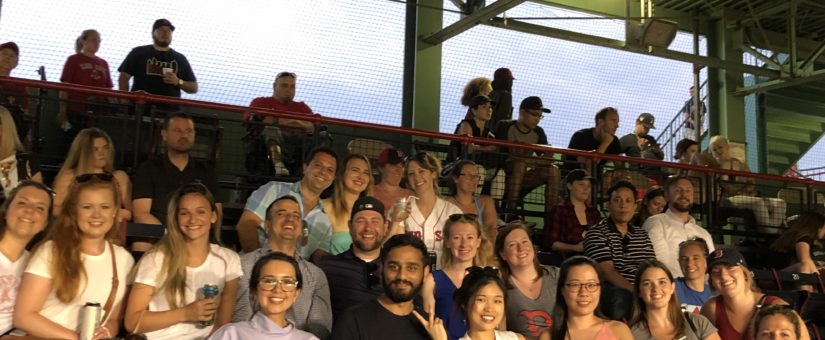 Posted by Kayla Hannon
On July 18, 2019
The Boston Area Chapter Young Professionals held their annual – and ever-popular – Red Sox summer outing on Tuesday, July 16. The event was another huge success with over 40 biotech and pharma professionals of all ages coming out for the game. Everyone met at the Bullpen Kitchen + Tap prior to the game to socialize, eat some delicious food and collect their Red Sox tickets.
After a couple of hours networking, eating and drinking, the group headed over to Fenway to cheer the Red Sox on as they took on the Toronto Blue Jays. The Sox started off strong with the first home run in the first inning but the Blue Jays came back with revenge in the second and third innings, scoring four home runs. The fifth inning brought a lot of excitement with the Sox scoring three more home runs to tie up the game! Unfortunately, the Blue Jays came back strong to win the game with a final score of 10-4.
The YPs took over three rows in the grandstand section and, despite the loss, everybody had a ton of fun! A special thank you from the YPs to our friends at Boston Analytical for sponsoring this event. We couldn't have done it without your support!