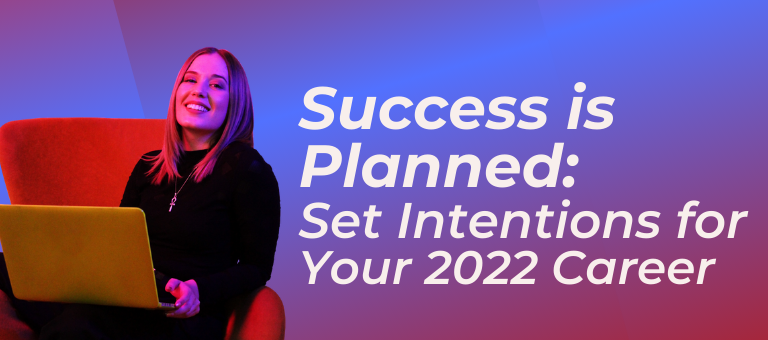 Setting Career Intentions for 2022
Posted by Jayne Mattson
On December 16, 2021
What better time of the year to start thinking about your career intentions for 2022! Many career professionals spent the majority of 2021 adjusting to their companies' work environments, changing responsibilities and challenges. Employees returned to full time in the office, a hybrid model or continued to work virtually and will continue into 2022. What became apparent? We need to take charge of our own careers and what we want to achieve in 2022.
To help answer that question, the Boston Area Chapter's Women in Pharma partnered with Women in Bio, Greater Boston and Women Accelerators on a virtual panel discussion facilitated by Toni Dupell, Chair of Programming for Women in Bio, Greater Boston. The event drew a whopping 75 attendees, proof that this topic is both timely and relevant.
Panelists Joanne Kamens, PhD, Interim Executor Director for Women and Business at Bentley University; Juliet Williams, PhD, SVP Biology, Kymera Therapeutics; and Jayne Mattson, author and career coach for early to mid-career professionals shared their experiences and provided advice on the importance of setting your career intentions now. Some of the questions discussed among the panelists were:
What do you attribute your professional success to?
Over the past couple of years, we have seen tremendous change in the world and workplace. What advice would you give someone planning for Success in 2022? What action steps can be taken now, and what pitfalls should they look for and try to avoid?
In addition, each panelist answered questions addressed to them. For Joanne Kamens, whose diverse career spans academia, pharma, biotech, and non-profit sectors:
Do you recall an experience where you wish you had done something differently?
If you were to go back to that time, what would you do differently?
Is there something you have done or experienced that you wish everyone were doing?
For career coach Jayne Mattson:
How do you define success for yourself? And how did you come to this definition?
What is one piece of practical advice you would offer to a woman just starting her career? Is it the same advice you would give to a woman who feels more established in her career? Or one who is thinking of changing careers?
And for Juliet Williams:
How do you keep yourself accountable while working toward your 2022 goals?
What do you do when you reach a career milestone?
One common theme from all the panelists for career success is building relationships. Having a broad and diverse network of people you can call upon for advice, resources and referrals is one of the most important aspects of career success!
If you missed this exciting event and would like to hear the answers to the questions above, you're in luck – you can still watch it – just CLICK HERE to watch on YouTube!
Thank you to our panelists for their excellent insights and advice and to webinar sponsor Elemental Machines for helping to make this event a success.